World's first driverless racing series unveils design of electric drone-racers
Roborace driverless championship features cars that can hit 186mph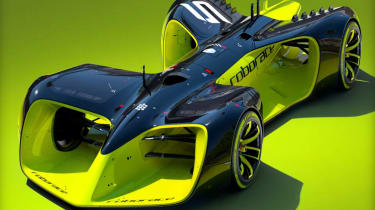 Roborace, the world's first ever autonomous racing series, has unveiled the design for its driverless racing cars. Daniel Simon, the man responsible for the iconic design of the light cycles in the film Tron: Legacy, is behind the look of the roborace vehicle.
Simon claims that the design was put together in order to take full advantage of not having a driver. The roborace car has been put together via a combined effort between aerodynamicists and designers, with an expected top speed of 186mph.
You can see clearly that it is carrying a vast number of sensor and that without a driver, the potential to create huge levels of downforce is most definitely there. Active aero bodywork is also in the works.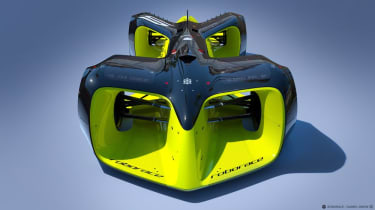 Little is known about exactly how Roborace will operate as a series, organisers are claiming that "shows" will take place during the Formula E season, although races will last roughly an hour.
We were initially sceptical about Formula E, but it did end up delivering fairly exciting racing, despite all its clear marketing potential. Roborace appears even more so, with the lack of driver freeing up even more space for marketing.
"Sport is on every level about people. Formula E came across as a big marketing exercise, but actually delivered some good racing, this was because of the drivers." said evo's Henry Catchpole.
"the way that this sport is going to appeal is if the regulations allow the cars to do things that a human piloted car can't do. If the cars were extrodinarily quick, or pulling huge levels of G-force which a human physically couldn't cope with, then it could be interesting. It needs to offer something over and above conventional racing, there needs to be a reason why they're autonomous."
We will have more on Roborace plans as and when they're announced.