Today's WRC cars are deeply impressive and the drivers as skilled as ever, but you'll search in vain for a true road-going equivalent for any of the series' top cars.
Things were different in the early 1980s. Before Group B came Group 4, where Lancia Stratos battled Escorts, Fiat 131s and one of the era's most distinctive cars, the Renault 5 Turbo. Rather than fight with front-wheel drive, Renault's engineers dropped their 1.4-litre turbocharged engine between the rear wheels instead, and pumped up the bodywork to turn their shopping car into a stage-ready monster.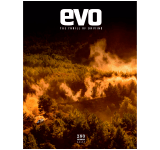 Subscribe to evo magazine
Subscribe today to have every issue of evo delivered straight to you. You'll SAVE 39% on the shop price, and get evo for its original cover price for a whole year!
> Read the Renault 5 Turbo group test from evo 222
Tarmac ace Jean Ragnotti took the competition car to three Monte Carlo Rally victories and achieved several strong results elsewhere. But while the Turbo was eventually out-competed by four-wheel-drive Group B machines, its legacy as one of the greats has endured to this day.
Renault 5 Turbo in detail
Credit to Renault: Turning a front-wheel-drive supermini into a mid-engined, rear-drive sports car can be no easy task, and remarkably the French firm has done it twice, first with the 5 Turbo in 1980, and then in the early 2000s with the Clio V6 with help from TWR.
For the 5, Bertone was tasked with the car's wild styling, its box-arched madness drawn up by Marcello Gandini. Bertone handled the interior too, being one of the most distinctive elements of a supremely distinctive car, with a mad red and blue colour scheme covering every surface, and an asymmetrical steering wheel that looks like the controller from an arcade machine.
And where some comfy but confined rear seats once sat, an engine took their place. It was effectively the same 1.4-litre turbocharged unit from the earlier Renault 5 Alpine Turbo, but in its new rear-drive application developed significantly more power, with 160bhp at 6000rpm, and 163lb ft of torque at a telling 3250rpm.
As with the front-drive 5s of the time, the engine was mounted longitudinally – one can only imagine the car being even wider if a transverse layout had been used – but the regular car's torsion bar rear was supplanted by the rather more extreme set-up from Alpine's A310. Tyres were 190-section up front and 220-section in the rear, a stagger that betrays Renault's efforts to mitigate the rather unusual weight distribution of this new layout.
The first cars, retrospectively known as the Turbo 1 (the Turbo 2 came along in 1983) had the full gamut of homologation-spec components, including aluminium roof and door panels, and a strengthened bodyshell. That barmy interior was simply a bonus, and Turbo 2s subsequently got a less colourful and considerably less zany cabin from a standard Cinq, as well as cheaper and slightly heavier panel work.
The end result wasn't just mad, but also effective. In the hands of Ragnotti, who had started his career with Renault in an 8 Gordini in the 1960s, the 5 Turbo was near-unbeatable on twisty asphalt, and Ragnotti took victory at Monte Carlo in 1981, 1982 and 1985, the latter coming in the highly developed Renault 5 Maxi Turbo. This had no direct road-car equivalent, featuring even more prominent bodywork, additional aerodynamic elements, and a new larger engine putting out as much as 350bhp – a useful increase from the original 210-horsepower competition cars.
Specifications
| | | |
| --- | --- | --- |
| | 5 Turbo | 5 Turbo 2 |
| Engine | In-line 4-cyl, 1397cc, turbo | In-line 4-cyl, 1397cc, turbo |
| Max power (bhp @ rpm) | 160 @ 6000 | 160 @ 6000 |
| Max torque (lb ft @ rpm) | 163 @ 3250 | 155 @ 3250 |
| Weight | 900kg | 970kg |
| Power-to-weight | 181bhp/ton | 168bhp/ton |
| 0-62mph | 6.6sec (claimed) | 7.7sec (claimed) |
| Top speed | 130mph (claimed) | 126mph (claimed) |
Driving one today
I've been warned about the gearshift. The throw is long, but the gate narrow, and reverse resides perilously close to second. I'll certainly know about it if I wrong-slot.
In a car with such a short wheelbase, rear-wheel drive and an engine in an unconventional place, the gearshift is just one of the things to look out for when driving a Renault 5 Turbo 2. In theory, at least – as the reality, at least today, on a dry circuit and at relatively modest pace, is of a responsive, engaging and fairly benign little sports car.
From the driver's seat you'd have a hard time knowing you weren't in a Renault 5 Gordini of the same era, with a padded dashboard, evocative three-spoke sports steering wheel and squashy yet supportive seats. It's only when you twist the key – the 1.4 fires surprisingly quickly – and the noise comes from the back seats that you realise something is different.
The clutch action on Renault's pristine heritage vehicle is easy and the revs rise smoothly. There's weight to the steering but response seems about right – a twitchy modern rack would make it much more intimidating. You can guide the car smoothly into turns, and quickly too with the required muscle, but I'm a long way from feeling like the rear is about to break loose.
So I drive harder, and more of the Turbo 2's character comes through. The steering begins to send subtle messages to my palms. The turbocharged engine builds quickly past around 3000rpm and is accompanied by a characteristic induction and exhaust bark. A modern hot hatchback – a Fiesta ST, say – would be gone before the 5 found its sweet spot, but there's still a genuine and insistent surge from corner to corner.
And one long right-hander feeding into a tight left finally reveals some of the Turbo 2's inherent balance. Powering around, building load through the tyres, I begin to lift, ready to brake for the left. The car quickly tightens its line – no hint of a slide, and far from a spin, but enough to remind me where the weight is. On a wet road, or with more commitment, it would be an interesting challenge.
What we said
Renault 5 Turbo
evo 231, Renault Sport special, Richard Meaden
'By today's standards the Turbo's mechanical spec is rather feeble… a kerb weight of 900kg helps make the most of it, and in a funny sort of way the lag that leaves you becalmed below 4500rpm seems to intensify the rush you get when the boost gauge begins to twitch and you hear the engine fill its lungs.
'The comedically knobbly period Michelin TRX tyres offer modest grip, but the way they build lateral load and then allow it to bleed away suits the car well. You're always aware of the mass sitting behind you – much like in an old 911 – but, unless you provoke it, the Turbo remains pretty benign. This of course means you start to poke and prod until you get a response. In the case of the Turbo, a mid-corner lift of the throttle is enough to wag the tail.'
Renault 5 Turbo 2
evo 222, 'Five Stars', Richard Meaden
'The engine sounds bigger and ballsier than its capacity suggests, with an endearing offbeat burble and gruff, throaty note when working hard. The boost gauge begins to twitch at around 3000rpm and whips round beyond 4000rpm, but you need full throttle to wake the little 1.4-litre pushrod motor.
'During the getting-to-know-you phase, the chassis has a nice, neutral balance. The unassisted steering's not too fast, but not too slow either. The front end has decent bite and there's roll and compliance in the suspension, so you feel it soak up the lateral load. You can kid yourself there's little more to learn, until you decide to provoke it, at which point you discover there's another side to the Turbo. One in which the tail is happy to take control.'