Before the Twingo 133, before the Clio 197, before the Clio Cup or Trophy or the much-loved Clio Williams, this was the genesis of the modern Renault hot hatch. Forget the original 5 Turbo, a genetically modified mid-engined mentalist that had as much to do with a regular R5 as your cat has common ground with a tiger, it's the front-engined 5 GT Turbo that's the daddy of the modern Renault fast hatch. From its cunningly tweaked and, at the time, improbably powerful engine to its basic but thoroughly modified MacPherson strut/trailing arm chassis, this is the car that gives the Twingo its genes.
The 5 GT Turbo was launched in 1985, bringing some excitement to the otherwise functional and workmanlike second-generation Renault 5 range. The brand new 5 might have been little more than an '80s remix of the 1970s original – the rehasher responsible being Lamborghini Countach designer Marcello Gandini – but the Turbo's wide-grilled bumpers, thick arch extensions and ever-so-French yellow front foglights gave it a certain chunky presence. It even had fake cooling slats ahead of the rear wheels as a cute tribute to its mid-engined forebear.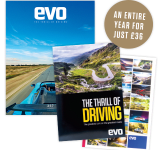 Subscribe to evo magazine
evo is 21 and to celebrate, we're returning to 1998 prices! Subscribe now to SAVE 39% on the shop price and get evo for its original cover price of £3.00 an issue, plus get a FREE gift worth £25!
Contemporary road tests largely denounced these add-ons as vile and pointless, but in retrospect they made the 5 look squat and muscular. Which was appropriate, because under the bonnet was the engine from the bigger Renault 11, a pushrod 1.4-litre carb-fed gasper also used in the miserable Volvo 340, but here fitted with a Garrett T2 turbo and an air-to-air intercooler. The net result was 115bhp and 121lb ft. In a modern context this might sound dismal, but in 1985, in a car weighing just 853kg, it was genuinely impressive.
It was still impressive almost a year later when the 5 GT Turbo finally made it to Britain and marched straight into the heart of a classic hot hatchback war, advancing boldly towards the Fiat Uno Turbo i.e. and the mighty Peugeot 205 GTI (1.6), both of which turned out just 105bhp. Renault UK made capital of their car's power and performance advantage, running a TV ad that showed a GT Turbo sprinting up a drag strip and hitting 60 in 7.5sec before cutting to a photo of two kittens as a Griff Rhys Jones voice-over wryly explained that there would be 'another commercial along in a minute…'. They stopped short of pointing out that other things 'along in a minute' would include the 205 and the Uno (0-60 in 8.7 and 8.1sec respectively according to Car magazine's road testers). Topping out at 125mph, against 118 for the Peugeot and 120 for the Fiat, the Renault battered its main rivals on maximum speed too, and just for good measure it also accelerated faster than any hot hatch from the class above, including the contemporary performance champ, the Fiat Strada Abarth 130TC.
But the GT Turbo wasn't just a fierce engine inside a roly-poly shopping car chassis because, in a tradition that lives on through hot Clios and the Twingo 133, Renault had really gone to town on the suspension too. The front springs, dampers and anti-roll bar were all new, resulting in a 38mm drop in ride height, whilst the changes at the back were even more fundamental, comprising a brand new V-section beam at the forward end of the trailing arms, plus an additional transverse torsion rod and a new anti-roll bar, both split in the middle and attached to a floating lengthways link that anchored to the main beam. Renault claimed the net result was greater roll stiffness, reduced understeer and less risk of lift-off oversteer. They must have got it right too, because contemporary road tests found much to like about the GT Turbo's performance and handling. Autocar called it 'very fine indeed' whilst Car said it was an 'exhilarating drive' and went on to include it in their Top Ten of the Year in 1987 and 1988.
In mid-'87 the GT Turbo enjoyed a light facelift, which gave it a body-coloured body kit, new stickers on the sides and seats trimmed in a fabric so 1980s that the design might as well have featured a picture of Limahl. And whilst the ooh-la-la yellow foglamps remained, the never-popular fake ducts on the rear arches disappeared. The ride height was dropped by another 5mm all round and the front geometry tweaked, while, more significantly, the engine was given a bit of a tickle with new ignition mapping, better knock detection, tighter build tolerances and a water-cooled turbocharger, these changes ostensibly bringing better drivability and durability to a car that had earned a bad rep for hesitant hot starting and traffic-jam tetchiness. However, it can't have been an accident that, less than a year after a revised 205 GTI had been massaged up to a matching 115bhp, the changes allowed the little Renault to now make 120bhp. Take zat, lion-loving loseurs.
The car you can see here is one of those improved 'phase 2' GT Turbos, and also one of the few near-standard examples left in the UK. Since it was tougher than the Uno Turbo and more tweakable than the 205 GTI, the 5 GT Turbo quickly became the darling of the modded car world because spanking one up to 200bhp and beyond was relatively easy. Dropping it on its springs and going mental with the aftermarket add-ons was unsettlingly simple too, which is why it's a rare delight to find a GT Turbo as original as this. Its owner, Paul Hedger, first bought it seven years ago, then passed it on to a friend before buying it back in June this year and lovingly returning it to the state it left the showroom in, save for a fruitier exhaust and hiss-tastic dump valve.
Without a trick paint job or remodelled panels you remember what a neat little thing the GT Turbo was, and the interior's a bit of a novelty too, though mostly because of how amusingly retro it is with that uniquely old-skool French feeling of thin and crappy plastic trimmings casually working their way loose from what's actually a fundamentally tough hull underneath. Small cars don't feel like this anymore, nor do they have such heavy unassisted steering and such weighty clutches. These are the things that make the GT Turbo feel slightly vintage, yet almost everything else about the way it drives is weirdly and endearingly modern.
Actually, that's not entirely true, because turbocharged cars in 2008 have engine management systems that can massage and manipulate to mask the lost moments whilst the impellers spin up. The GT Turbo doesn't, as a result of which it has a tiny moment of turbo lag, yet this isn't frustrating or irritating in the slightest. Instead, the closest thing it compares to is the bridging bit to the chorus of 'Don't Leave Me This Way' by Harold Melvin & The Blue Notes (or, for appropriate '80s-ness, The Communards). You know the part that goes 'AaaaaaaaaaaAAAAAH… BABY!''? That's the turbo lag in a Renault 5 GT Turbo; a sort of exhilarating build-up to the main event that makes it all the more exciting when it arrives. And when it does, the GT Turbo doesn't hang around, because 120bhp is more than enough to make this little featherweight fly.
The really interesting thing about the 5, however, is the way it handles, in particular the way the front end just dives into corners and then feels quite unnaturally nailed to the road. Sometimes it's almost as if it grips too much, and at the point where you're expecting to turn the wheel more to get around a bend the car is actually digging in harder, forcing you to wind off lock. Anyone who's ever driven a Clio 172 or its descendants would recognise the way the GT Turbo behaves, although if anything the older car's rear end feels more benign and less edgy than that of its kid brothers. Add in the kind of weight change and gentle jittering through the steering that you don't get in most modern cars plus a sweet, slick gearchange and the GT Turbo is a mighty slice of old- fashioned fun. More than that, it's one of those cars that's incredibly easy and fun to drive hard on a good road. Even the ride, reportedly more composed and gentle on these 'phase 2' cars, is pretty acceptable and contributes to the easy fluency with which the R5 will flow along at a remarkable clip.
The GT Turbo has the qualities we want in all great hot hatches. It's exciting, it's addictive, it goads you into driving it harder, and when you do it's on your side rather than trying to bite your arm off. In so many ways, most notably its uncanny front-end grip, firm but acceptable ride and fluid, easy gearshift, it feels recognisably like a Renault hot hatch. It feels like the place where it all began.
Extra Info
Specifications
| | |
| --- | --- |
| Engine | In-line 4-cyl, turbocharged |
| Location | Front, transverse |
| Displacement | 1397cc |
| Cylinder block | Cast iron |
| Cylinder head | Aluminium alloy, overhead valves, two valves per cylinder |
| Fuel and ignition | Solex 32 DIS carburettor |
| Max power | 115bhp @ 5750rpm |
| Max torque | 121lb ft @ 3000rpm |
| Transmission | Five-speed manual, front-wheel drive |
| Front suspension | MacPherson struts, coil springs, dampers, anti-roll bar |
| Rear suspension | Trailing arms, torsion bars, dampers, anti-roll bar |
| Brakes | 238mm ventilated discs front, 238mm solid discs rear |
| Wheels | 5.5 x 13in, aluminium alloy |
| Tyres | 195/55R 13 |
| Weight (kerb) | 853kg |
| Power-to-weight | 137bhp/ton |
| 0-60mph | 7.5sec |
| Top speed | 125mph |
| Basic price | £7360 (1986) |
| evo rating | 5/5 |
Find used Renault 5 Turbos for sale on the Classic and Performance Car site here.