Renault Clio V6
It's hard to believe, but we've had the Clio for almost a year, and another landmark is fast approaching - the 24,000-mile service, which is going to come a little early because the brake pads have had it. At the 12,000-mile service, Wests Garage of Cambridge predicted that they'd be pretty much done for by 20,000 miles, and they were right; there's now an unpleasant graunching noise after long, firm braking. There's one other non-scheduled item that Wests will be asked to tend to and that's the air conditi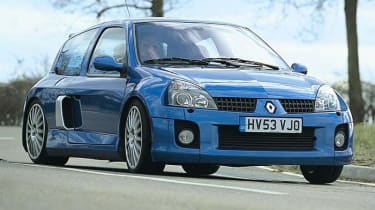 It's hard to believe, but we've had the Clio for almost a year, and another landmark is fast approaching - the 24,000-mile service, which is going to come a little early because the brake pads have had it. At the 12,000-mile service, Wests Garage of Cambridge predicted that they'd be pretty much done for by 20,000 miles, and they were right; there's now an unpleasant graunching noise after long, firm braking. There's one other non-scheduled item that Wests will be asked to tend to and that's the air conditioning. It has lost its cool so I suspect a recharge is on the cards.
Otherwise, the Clio is wearing its miles well. The V6 is as sweet and gutsy as ever, the trim looks pretty much as new and there's only one unusual noise - an occasional loud tick when pulling away, like something in the boot is unsecured. The second pair of rear tyres have plenty of life in them yet but the right front is nearly worn out - the left front was punctured and replaced at 12,000miles.
Of all the cars on the fleet, the chunky little Renault is still my favourite. It's a real character, puts a smile on the face of all who see it, and once you've accepted its lack of practicality it's very easy to live with.
Running Costs
| | |
| --- | --- |
| Date acquired | October 2003 |
| Total mileage | 22,716 |
| Costs this month | £0 |
| Mileage this month | 2100 |
| MPG this month | 22.9 |