Renaultsport Clio 200 Cup
A downchange mis-revved interface temporarily forced the Cup off the road. Thankfully it's back now, and better than ever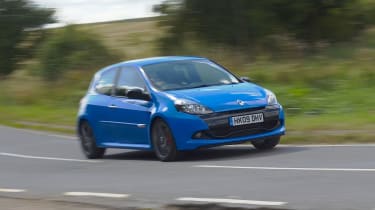 I love my Clio. It's a blast on every type of journey, but shines brightest on my mostly rural commute into work each day. I can't remember the last time I took the short, straight route in.
Or rather I couldn't until I had to press my trusty Puma 1.7 back into service recently. The reason? While compiling the Clio v Ibiza twin test you can read elsewhere online, esteemed motoring ed John Barker broke the Cup. An uncharacteristic cocked-up downchange saw the gearbox forced from fourth to first, a knobbled clutch and various vital fluids leaking out underneath.
After spending a few weeks at Renault being mended, the Cup's back and as good as ever, but I've sorely missed it. 'If it's any consolation I was busy setting a blinding lap,' said John. Yep, JB, thanks a lot.
Running Costs
| | |
| --- | --- |
| Date acquired | September 2009 |
| Total mileage | 5854 |
| Costs this month | £0 |
| Mileage this month | 1594 |
| MPG this month | 29.1 |