Renaultsport Clio V6 255
The Clio has been captured in portrait form this month and the results are fabulous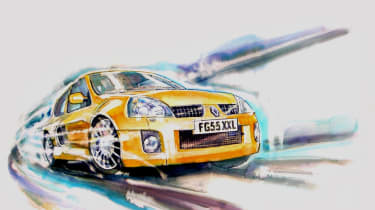 One thing that helped define motoring magazines of the '70s and early '80s was the use of paintings and illustrations to support articles that did not, for whatever reason, have accompanying photography.
I have a collection of mags going back nearly 45 years, meaning I've spent many an hour studying these artists' interpretations of motoring stories. Two artists in particular stand out from this era: the late, great Bob Freeman and the lesser-known Gerry Greaves.
Gerry's work is close to my heart because he is a family friend. He seemed terribly exotic to me as a kid because when my family visited his house he would take me out for insane drives in his E-type Jaguar. Also, dotted around his house were his amazing illustrations commissioned by, among others, The Times, Car and the Ford Motor Company.
When I bought my Clio V6, my dad suggested I should commission Gerry to create a motor portrait in the style he used in the '70s. It was a brilliant idea, the results of which you can see on the opposite page. Gerry naturally offered this to me for free, but that didn't seem fair for all his hard work so I stumped up £400 for this image of my car.
You've probably guessed that I love the painting – the results are brilliant and it looks truly fabulous hanging on the wall. I have a dream one day to build a house with an internal garage and a glass wall separating the Clio V6 and the living area. The painting will hang on a wall behind the car itself. Well, I said it was a dream…
My painting seems to have inspired Gerry to become a kind of motor portrait artist. He's created a fantastic piece on a Zonda R and there's a Bugatti image in the works too. For more, see www.motorportraits.co.uk
Running Costs
| | |
| --- | --- |
| Date acquired | January 2010 |
| Total mileage | 13,998 |
| Costs this month | £400 (painting) |
| Mileage this month | 434 |
| MPG this month | 21.4 |