Renault Clio 138
138bhp warm hatch Renault Clio bridges gap to range-topping Renaultsport Clio 197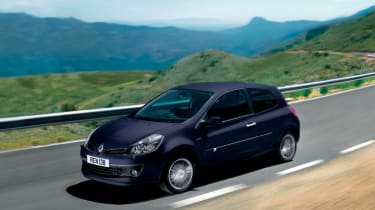 If there's one thing our experience of the Clio 197 has left us crying out for, it's more power (or, more specifically, more torque). So, at first glance, a Clio 138 may not appear to have a lot to offer.
In fact, the truth couldn't be more different. The Clio Dynamique S 138, to call it by its full name, is quite terrific in isolation, and still pretty impressive when you line it up alongside the 197. Its 2-litre VVT engine pulls cleanly from 2000rpm, with a torquey delivery that makes it feel quicker than the 197 in normal driving. The chassis is neat and responsive, too. It resists understeer well and the rear always seems involved in hooking you into the apex, the optional traction control remaining very unobtrusive (good job, as it's not switchable).
Push really hard and things start to lose their sheen. The supple suspension can't control the mass of the body over crests and suddenly you feel that the chassis can't keep up with the feisty engine. Like the 197, it also suffers from light, lifeless steering.
Having said that, these faults only become apparent on very testing roads. Most of the time the 138 feels quick, nimble and great fun. It might not set your trousers on fire, but it's an endearing and effective warm hatch.
Specifications
| | |
| --- | --- |
| Engine | In-line 4-cyl, 1997cc, 16v |
| Max power | 138bhp @ 6000rpm |
| Max torque | 143lb ft @ 3750rpm |
| 0-60 | 8.5sec (claimed) |
| Top speed | 127mph (claimed) |
| On sale | Now |