Renaultsport Clio 200
More expensive but better equipped, non-Cup Renaultsport Clio has its place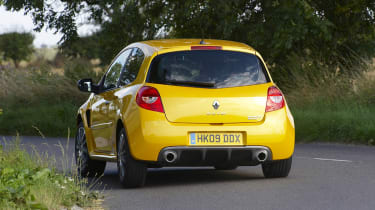 There are significant differences between the entry-level Clio 200 Cup and the non-Cup version, which we're testing for the first time here. The non-Cup car costs £1000 more, which buys many refinements, including keyless go, climate control and steering reach adjustment, and there is an extensive range of chassis changes too. Yet if it were the only Clio 200 you'd driven, you'd probably reckon it was sporty enough.
It has firm, feelsome steering, a taut ride and roll-free, grippy cornering. Across your typical lumpen British B-road it feels nicely judged; it takes the sting out of sharp bumps but feels responsive and in touch. Nail the throttle and there's much more low- and mid-range punch than the 197 ever mustered, but the inside front hooks up strongly for keen exits from choppy corners, so you're left wondering what the Cup chassis can add to the experience.|
Oddly, you notice the difference more on smooth, flowing asphalt. The Cup chassis has quicker steering, firmer springs and dampers and a thicker front anti-roll bar, so it feels sharper, more alert. Here the non-Cup car can feel a little ordinary, but it's a good compromise for anyone contemplating high annual miles. And if you should want the extra kit and the Cup chassis you can, for an additional £400.
Specifications
| | |
| --- | --- |
| Engine | In-line 4-cyl, 1998cc |
| Max power | 197bhp @ 7100rpm |
| Max torque | 159lb ft @ 5400rpm |
| Top speed | 141mph (claimed) |
| 0-62mph | 6.9sec (claimed) |
| Price | £17,115 |
| On sale | Now |