Renault Clio 197
Harry's been car-spotting, and failing to find any other Clio 197s...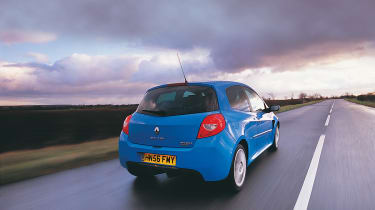 Anyone with a long commute will know how you notice some of the more distinctive cars travelling in the opposite direction each day. My daily highlights include an Exige, a Porsche 996 Turbo, a red Ferrari 575 (no matter what the weather and always immaculate), and a Clio 182 in the same violent hue as our current long-termer. Yet in nearly 5000 miles I have yet to spot another Clio 197, and I find that a bit odd.
So I rang Renault to find out if any have actually been sold yet. The answer was yes – around 3500 since it was launched in the middle of last year. But compare that with the 5500 Clio 182s sold in 2005 (that model's final year in production) and you start to wonder why the all-new 197 hasn't been flying out of Renault showrooms a bit faster.
Well, I reckon the hefty list price could have something to do with it. The 182 always seemed a bit of a bargain in its day, but that's a description you'd struggle to apply to the £15,995 Clio 197. In fact, Renault told me that, after adding options, the average price of a UK 197 in 2006 was closer to £17,000, and that's pretty strong money for a junior hot hatch. Seems the market agrees: do a quick trawl of AutoTrader's website and you'll soon find delivery-mileage 197s at around the £13,500 mark – about what a 182 Cup used to cost.
Part of the reason could be the way the 197 doesn't quite hit the spot the way previous Renaultsport Clios have. You just know the 197 is going to blossom into a terrific car over time, but even though the chassis is currently its best feature, I fear the first thing Renault will do is introduce a 'Cup'-spec suspension package when what it really needs to do is revamp the horrid electric steering. Then it should look at adding a bit more sparkle to the engine, as the way it delivers its 197bhp feels a bit flat. (It likes a drink too, struggling to better 26-27mpg where my old Clio Trophy regularly delivers 34mpg. The 197's short gearing and extra bulk are to blame for that, I suppose.)
I love hot hatches and want to love this one too, but at the moment it frustrates me too much. So if anyone can suggest any mods that'll improve things, I'd really like to hear from you.
Running Costs
| | |
| --- | --- |
| Date acquired | November 2006 |
| Total mileage | 5160 |
| Mileage this month | 1054 |
| MPG this month | 26.4mpg |