Renault Clio 197
The Clio's 24,000 service went to plan, but there may be damage below from an earlier incident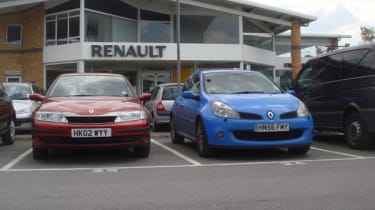 It was service time for my brace of Clios this month. First the Trophy suffered a fit of the engine splutters, causing an engine warning light to stay resolutely lit, then the service indicator on the 197 suddenly flashed up 'Service due' every time I went near it. So business was looking up for local Renault dealer Fish Bros of Swindon, but how long would I have to wait before it could book both of them in?
'We can do a service on the Trophy on Wednesday, then if you bring in the 197 that afternoon and swap them over we'll service the 197 on Thursday,' the helpful service manager suggested. I was amazed, especially as today was Monday, meaning in three days' time both cars would be sorted – some sort of record in my rather too extensive experience of dealer service operations.
A couple of hours after I'd dropped the Trophy off, the phone rang. 'Your front brake pads are worn and they look as if they've overheated at some point. Is it alright if we replace them?' I had visions of waiting days while Renault HQ searched for a set of genuine Trophy pads, but apparently Fish Bros had a set in stock. Impressive.
Later that afternoon I collected my refreshed Trophy (the engine fault turned out to be a duff oxygen sensor), paid the £283.41 bill (£47.40 of which was for the pads) and left my slightly battered 197 with them to be serviced. While it was there they were going to get the badly cracked windscreen replaced and re-align the bonnet after my embarrassing 'off' last month.
All went to plan, the 24,000-mile service was completed (£246.93), Autoglass replaced the screen and Fish Bros gave it a thorough clean. But it seems my altercation with the caravan did more damage than I first thought. Fish Bros reckoned I might have damaged a subframe and recommended that I shouldn't drive the car until it was fixed, even though it happened 5000 miles ago. So our 197 is now with Renault UK while they investigate what I've done to it. Oh heck.
Running Costs
| | |
| --- | --- |
| Date acquired | November 2006 |
| Total mileage | 22,070 |
| Costs this month | £246.93 |
| Mileage this month | 1110 |
| MPG this month | 29.6mpg |