Renault announces Megane 265 pricing
Renault has announced pricing for the revised Renaultsport 265 Megane, with the range starting from £24,825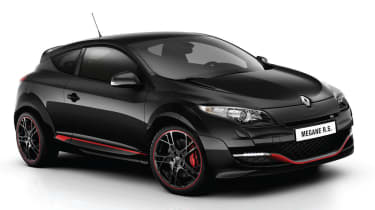 Renault has announced prices for the revised Renaultsport Megane, with the basic 265 Cup set to cost £24,825 - an increase of £805 on the previous 250 Cup. The plusher Megane 265 will cost £26,025, and both cars will be on sale in the UK from early April.
The revised Renaultsport Megane gets an extra 15bhp from its 2-litre turbocharged petrol engine when compared to the previous Megane 250. That's cut 0.1 second from the official 0-62mph time - which now goes down to 6 seconds dead - and added 2mph to the top speed, which rises to 158mph. 
Anyone feeling nostalgic for the previous 250 will be able to use the 265's new toy - a sport button - to switch back to a slightly tamer 250bhp engine map. Renault claims the lower setting will produce a five percent improvement in fuel economy. The sport button also controls a soundtrack-boosting flap in the exhaust system.
Buyers will also be able to choose from several new options. A design pack gives the 265 the same look as that of the limited edition 265 Trophy, with red striping on the front and sides, for £350. Buyers will also be able to specify Renault's 'Visio' system which combines lane departure warning with automatic high-beam switching. Not really in keeping with the Renaultsport ethos - but it's available for £300. There's also the option of a rear camera system for £360.
As before, the firmer 'Cup' chassis will optionally be offered on the plusher 265, although buyers will have to find an extra £1350 to add the 18-inch alloys, stiffer springs and dampers and a limited-slip differential. The Megane 265 will also be covered by Renault's '4 plus' package which combines a four year/ 100,000 mile warranty, four years/ 48,000 miles of routine servicing, four years breakdown cover and various finance packages.