Renault Mégane R.S 225 Trophy - fast fleet report 4
We took our Megane R.S 225 Trophy on track for the first time to see how it would fair against its smaller sibling.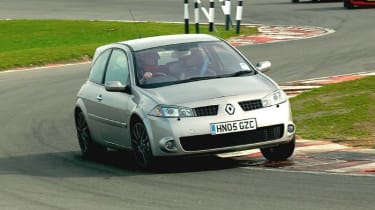 I have run two Renaults as long-termers now - the first a Clio Cup, and now our Mégane Trophy. The Clio, like the Mégane, was a real workhorse, carrying lots of camera gear while chasing group tests all over the country. In fact, the only time that I really got to play with it was on trackdays. As I've now had the Mégane for nearly a year, I felt it was time to let it stretch its Dunlops on track to see how it compares, and an evoactive event at Snetterton seemed like the perfect opportunity.
To be honest, I never expected the bigger Mégane to be as good round a race circuit as the little lightweight Cup, but - get this - it actually felt better.
At first I didn't feel comfortable working it too hard, memories of understeer and brake-fade that I had experienced with an original 225 still in the back of my mind, but after a few laps in the Trophy I knew I could push it as hard as I dared.
If it's true that most time on a circuit is to be made in the corners then the Trophy is a Tardis. It feels totally planted through the bends, the Dunlops digging so deep that I was worried that they were going to have to resurface the track at the end of the day! Add to this the Brembo brakes which didn't fade at all, feeling as good at the end of the session as they did before, and you've got a serious and seriously fun track car. It's just a shame about the driver...
> Click here for our third report on the 225 Trophy
Running Costs
| | |
| --- | --- |
| Date acquired | June 2005 |
| Total mileage | 24,560 |
| Costs this month | £0 |
| Mileage this month | 3911 |
| MPG this month | 27.6mpg |