Dunlop Sport Maxx RT review - how does Dunlop's performance tyre fare in the UK?
Strong in the wet, but lacking in pliancy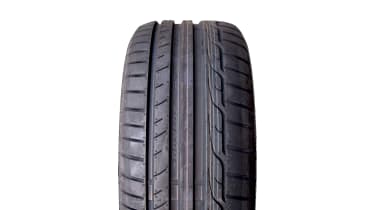 The Sport Maxx RT is a summer tyre that promises a 'dynamic driving experience'. evo has tested the tyre thoroughly, both in its 2015 tyre test and on the road in the UK fitted to a Focus ST.
Featuring an asymmetric tread pattern either side of a slick centre band, the Sport Maxx RT scores well in wet conditions – and in particular traction-limited and heavy braking situations.
During the tyre test, this enabled it to score highly in subjective terms, despite lower mid-corner grip than some rivals. Likewise, the Sport Maxx RT finished second overall for straight aquaplaning, but a lower 6th position (out of 10) for curved aquaplaning. 
The tyre's strong performance in wet conditions was replicated back on the roads in the UK. Its resistance to straightline aquaplaning also manifests itself with excellent stability. 
On the negative side, the Dunlop has a tendency to deliver a lumpy ride, with evo reviewers noting that it has a 'sharp ride over ridges' during the 2015 tyre test. The tyre is not the quietest either. 
>Read our Ford Focus ST review
evo has achieved 12,000 miles and counting UK roads, which backs-up the Sport Maxx's second place score in the rolling resistance element of the tyre test. In that respect, higher-mileage drivers should seriously consider the Sport Maxx RT.
In summary, the Dunlop Sport Maxx RT is excellent in some areas and average in others. It placed 6th overall in the 2015 tyre test with evo reviewers stating that 'a second place in the straight-line aquaplaning test stood out, but points were lost in both the wet and dry handling tests for traction levels.'