This Fiat 124 Spider is, quite literally, Fiat's MX-5. The 124 Spider may look different, but underneath that Pacific Coast cruiser body you'll find the same structure, suspension architecture and interior (give or take a few changes of materials) as Mazda's latest MX-5.
What has changed is the engines. Mazda's 1.5 and 2.0-litre naturally aspirated units, built for purity and quick response but lacking in character, have been swapped out for a 1.4litre turbocharged four cylinder.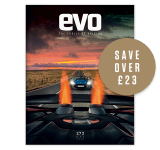 Subscribe to evo magazine
Subscribe today to have every issue of evo delivered straight to you. You'll SAVE 39% on the shop price, and get evo for its original cover price for a whole year!
The changes that have been made have added just approximately 50kg over a basic MX-5. But rather than expect the MX-5's suspension to cope, Fiat has re-tuned the dampers, altered the anti-roll bars and changed the spring rates to not only suit the extra weight, but also give the 124 Spider its own character.
Engine, transmission and 0-60 time
The 1.4 produces 138bhp. Not a huge figure, but with torque at 177lb ft, and from as low as 2250rpm, the 124 feels sprightly enough. It'll hit 62mph in 7.5sec.
At very low revs the engine can feel sluggish, add a gradient into the mix too and you find yourself shuffling in your seat to try and push the car forward. But get it above 2500rpm, where there is a surge of boost, and the engine will buzz away propelling the Spider at a comfortable pace.
It often feels turbocharged, with swell of power appearing at a few different stages in the rev range. There's also notable turbo lag, however neither are very intense, so it's still a very predictable engine. Despite the turbo charger, there is good throttle response and the engine revs freely, making heel and toe down changes a doddle.
It's not the nicest sounding of engines, but it doesn't shout to loud either. Instead, it takes a back seat and remains relatively quiet, so is far from offensive. Drive hard and you occasionally hear a little whistle and chirp from the turbo wastegate, but rather than sounding like a heavily turbo'd Japanese tuner car and dramatically out of place, it's actually quite charming.
The gearbox has a very short stick, and throw. It's also very direct so gear changes can be made quickly and precisely. That's, of course, a great thing. However, it doesn't really suit the more laid-back character of the car.
Technical highlights?
In terms of technology, there's nothing really new in the 124 Spider. But that alone is a highlight. This is old-school, no-nonsense engineering. There's a manual gearbox, fixed-rate dampers and a manually operated cloth roof.
The things that prevent it from being a purists dream are just the turbocharged engine and electric power steering. 
What's it like to drive?
The Spider is a very competent, fun little convertible. It's cheerful and charming when cruising around. But find yourself on an Italian mountain road and you're best to enjoy the view with the roof down than you are exploring the 124's performance.
The suspension's initial travel feels very soft. Each input, be it throttle, steering or brakes, makes a huge difference to the car. It will dive under braking and, even with its modest power, squat under acceleration. This softness makes the car feel wallowy over undulations, but doesn't actually isolate the car from small imperfections. Rather than being uncomfortable though, it just feels fidgety especially below 40mph. This is emphasized by a lack of rigidity in the structure, as the whole body constantly shuffles.
The suspension does firm up when pushed harder, but the exaggerated body movement is still evident and this gives each tyre a very hard time. Under braking the rear feels like it could be encouraged into oversteer, but some very serious commitment would be needed and a very well sighted corner. Be aggressive with your inputs and you're more likely to induce understeer than anything.
If you do apply the throttle mid corner, it will make the car adopt an aggressive attitude. Not oversteer exactly, but the feeling you're really driving the Spider on the throttle. The low down torque of the engine helps you feel this at almost any revs and any speed. Back off, drive in a more relaxed manner, and not only does the chassis cope more effectively but you can still enjoy the feeling of the 124 being rear-wheel drive even without a limited slip differential
It isn't dissimilar then to its close relation, the MX-5; fun at low speeds but the chassis lacks finesse and struggles to maintain composure when driven harder. However the engine, being torquier, suits the soft suspension and endows the Spider with a calmer character. It's just not the last word in excitement.
Price and rivals
The basic 124 Spider is £19,545, which makes it £1050 more than Mazda's MX-5. The Fiat certainly feels more luxurious than the basic Mazda though.
The Mini Cooper S Convertible may not be able to offer the same sort of rear-wheel drive feel the 124 Spider can, but it's still sharp and fun to drive.
The Toyota GT86 may not have a removable roof, but if ultimate driving enjoyment is what you want, rather than wind in your hair, then it betters both the Fiat and the Mazda. Just make sure you change the Prius-spec, low friction tyres for something a little sportier.