Mitsubishi i
Mitsubishi's i is characterful and the Smart that never was. It should meet its sales target...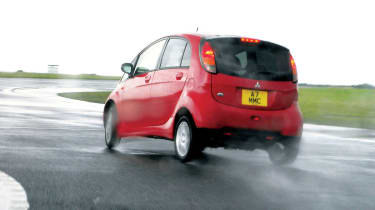 Its name reads like a typographical error, from front-on it looks like a mobile phone, and it has but 660cc to punt it along. But we can't help rather liking the Mitsubishi i.
The i is a Japanese K-car, the first of the current generation to be officially imported to the UK. Designed primarily for city use, it's a rival to the Smart ForTwo, except that the i is for four, which makes it even smarter.
Under the floor, just ahead of the rear axle, is a 660cc 3-cylinder turbo engine, which, if you've a keen ear and even keener imagination, sounds a little bit like one bank of a 911's flat-six. It drives the rear wheels through a four-speed auto; keep the throttle pinned and it'll keep pace with most traffic.
The i is shorter and narrower than a Toyota Aygo, narrower even than a Smart. So what you really want to know is, just how unstable does it feel at speed, and does it feel like it's going to fall over when you throw it into a corner? With the engine mounted just ahead of the rear axle, it actually has quite a sweet inherent balance, once you get over the sensation of teetering atop a shopping trolley, though hard cornering isn't exactly in its 'comfort zone'. In the dry it's the front that gives up the fight first; in the wet, with drive going to the rear and no traction control, you can even make it do little skids. It wanders around a bit, especially in cross winds, but relax with it and it'll buzz along quite happily, occasionally nudging into its speed limiter at an indicated 86mph.
Mitsubishi wants to sell just 300 in the UK initially, which oughtn't to be a problem. For nine grand you get CO2 emissions of 114g/km, well over 50mpg, air con, alloys, CD player and electric windows but, inexplicably for an i-car, no socket for your iPod. Still, it's characterful, clever and kind of cool – the four-seater that Smart should have made.
Specifications
| | |
| --- | --- |
| Engine | In-line 3-cyl, 660cc, turbo |
| Max power | 57bhp @ 6000rpm |
| Max torque | 62lb ft @ 3000rpm |
| 0-60 | 14.9sec (claimed) |
| Top speed | 84mph (limited) |
| On sale | Now |