Rolls-Royce Wraith third teaser
A third Rolls-Royce Wraith teaser image shows off the Ghost coupe's rear end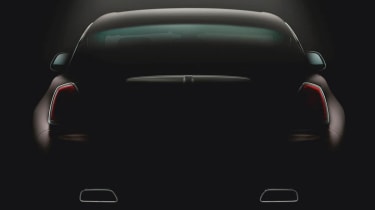 The third official teaser image of Rolls-Royce's upcoming Wraith model has been released ahead of its unveiling at the 2013 Geneva motor show.
After the second teaser, a side-profile image, the British luxury marque has shown a darkened image that when lightened in Photoshop, begins to show the rear end of the Ghost-based coupe, which was officially announced last month. It doesn't reveal as much as the last picture, simply confirming a pair of large exhaust pipes and the fitment of rear lights just like those on the Ghost saloon.
The Wraith adopts a sleeker silhouette than its Phantom equivalent, suggesting its sportier intentions. Rolls-Royce says the Wraith promises 'dynamism', and suggests it is 'a car set to move with purpose on its driver's command'. Quite.
Rolls-Royce has confirmed that the two-door Wraith will be its most powerful car yet, and it is likely to use a tuned version of the Ghost's 6.6-litre twin-turbocharged V12 which could reach close to 600bhp. Like its Phantom relation, the Wraith will use rear-hinged doors, while a two-tone paint scheme is set to be standard fit.
More details of the Rolls-Royce Wraith will be released ahead of the Geneva motor show in March.