Rolls-Royce Wraith Drophead coming
Rolls-Royce CEO confirms a new Drophead convertible model; likely to be based on the Wraith coupe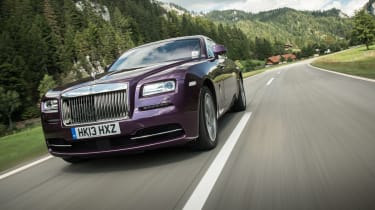 Rolls-Royce has confirmed development of an all-new model. It was initially thought the company would be unveiling an SUV to rival Bentley's upcoming 4x4, but Rolls-Royce CEO Torsten Müller-Ötvös told the media that the new model being undergoing testing is a drophead: 'We are currently developing an exciting and thoroughly contemporary interpretation of a pinnacle drophead tourer'.
A development car has been seen testing, disguised as a Rolls-Royce Wraith with a soft-top roof hidden under a hard top. With the Wraith currently only available as a coupe, and the Phantom available both as a coupe and Drophead, it seems almost certain that it's a Wraith Drophead in the works. If so, expect the new Drophead to cost around £250,000.
Like the Wraith coupe, power will generated courtesy of a silky smooth 6.6-litre V12; in the hard-top, its peak power is 624bhp. The Wraith is the fastest Rolls-Royce in history, with its stocky 590lb ft torque peak available from 1500rpm right up to 5500rpm. It helps the Wraith glide to 60mph in a supercar troubling 4.4sec, despite the fact it weighs a hefty 2360kg. The Drophead will inevitably weigh more given the extra mechanism of a folding roof; figure on a climb of around 100kg, with an impact on acceleration as a result.
The new car will reach the market in 2016. It could make its debut at next year's Goodwood Festival of Speed, just a few miles from the home of Rolls-Royce.