Skoda unveils Citigo Rally
The Skoda Citigo gets a full rally makeover, which will be launched at the Wörthersee tuning festival in Austria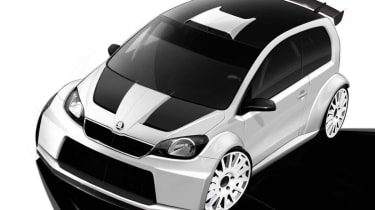 Ahead of its official unveiling at the Wörthersee tuning festival in Austria, Skoda has released details of its new Citigo Rally – a wide-arch, big-wheeled, pumped-up Citigo rallycar.
Skoda has given the Citigo an all-new look, with a huge roof-mounted air intake, larger bumpers and the obligatory spoiler, low-profile tyres on forged 18-inch wheels. At the rear of the car, a centrally positioned exhaust and wing extending the car's roofline.
The company hasn't confirmed what kind of engine will be powering this Czech pocket-rocket, but does say that it 'takes its dynamics from Skoda rally cars'.
As well as the Citigo Rally, Skoda will be taking the Skoda DJ car, which gets a 100,000-watt stereo system, and will be used in the evening on the centre stage show.