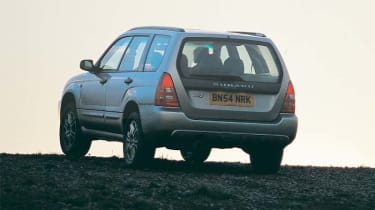 What fun. An Impreza on stilts. I can remember thinking the same thing when I drove our previous Forester turbo long-termer, the mk1 version, six years ago (yes, it really is that long ago). The fun of the original is still there alright. It's all just been refined.
I was delighted when regular keeper Barker threw me the keys to the Forester. From firing up the flat-four to experiencing the unmistakable and beautifully weighted Scooby 'signature' steering feel, the 2.5XT entertains on every journey. It still takes a while to get into a rhythm with it, as your brain gets into sync with the turbo surge. But a couple of days in and I was starting to get the country lanes sorted.
'Less is more' is a good way to think about steering inputs. The smoothest turn of the wheel produces the most satisfying results when stringing together a series of bends, and eventually it feels quite natural to steer it on the throttle; the extra axle height just adds to the fun of it all.
There is, inevitably, a price to pay if you enjoy the turbo motor's full performance. I was thinking about trying to beat JB's personal best of 300 miles on a tank - for about five minutes. I decided against because: a) I had the car for just a couple of weeks, and b) you really only live once.
The other good thing about driving a wolf in sheep's clothing is the confusion it spreads among BMW drivers as you pass them from a roundabout start. It'll soon be as quick in the corners, too, thanks to a set of 17in rims and lower-profile tyres currently on order (an off-the-shelf option from Subaru dealers).
Eventually JB's supply of exotica dried up and I had to hand the Forester back, reluctantly. It's still the smart, fun choice for the evo family man.
Running Costs
| | |
| --- | --- |
| Date acquired | May 2004 |
| Total mileage | 5672 |
| Costs this month | £0 |
| Mileage this month | 1599 |
| MPG this month | 24.5mpg |