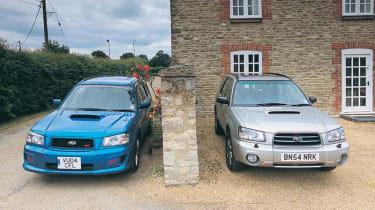 Why don't they sell them over here? That's all I could think as I handed back the keys to my Forester's more glamourous sibling. I know the STi is still Subaru's best-kept performance secret (and that's what makes it cool), but the company is in the business of selling cars, and it would surely sell shedloads of these things over here.
Don't get me wrong, the plainer sister of the family is still a really good car, but the STi shows you what it's missing: more grip, better brakes, a better interior and the tiny matter of an extra 100bhp to play with. Consequently things start to happen much faster in the STi, and I soon found myself approaching corners at speeds I didn't think possible in a Forester, but after a few hairy moments I realised that this thing also carries corner speed like no other Forester. The combination of lowered, stiffened suspension and an even bigger wheel-and-tyre combo than our car's Prodrive pack, means it hangs on remarkably well on the twisty stuff. Once through the corner, just squeeze the power and punch on to the next one. It's a real rollercoaster ride, and you can even take a few friends along... and the dog... and the shopping.
A couple of weeks later, I still miss the STi, but the run back from the Goodwood Festival of Speed has reaffirmed my faith in our XT. Blatting back in the wheeltracks of a TVR, I expected to feel short of power, but the frustrated driver repeatedly growled past traffic only to see a big silver estate car shadowing his every move. Imagine the look on his face if a big blue estate car had whistled past him...
Running Costs
| | |
| --- | --- |
| Date acquired | November 2004 |
| Total mileage | 9469 |
| Costs this month | £0 |
| Mileage this month | 1333 |
| MPG this month | 22.9mpg |