Meet the Subaru Impreza STI CS400. Feel free to forget that rather clunky name if you wish, because you won't be using it anyway – not when you can call this car the Impreza Cosworth. The subject of rumour and gossip since its existence was confirmed by a brief announcement a couple of months ago, evo has now had exclusive access to the car and the people behind it.
Let's start with what we already know. The 2.5-litre engine has been tuned to 395bhp – a massive 99bhp gain over the regular STI – allowing the 0-62mph time to drop by 1.5sec to a claimed 3.7sec. Only 75 examples will be built. And that's about all that's been made public so far.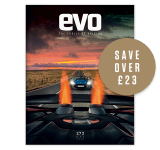 Subscribe to evo magazine
Subscribe today to have every issue of evo delivered straight to you. You'll SAVE 39% on the shop price, and get evo for its original cover price for a whole year!
Now we can put some flesh on the bones. Subaru, anxious to restore some much-needed sporting credibility to the Impreza, approached Cosworth about a possible collaboration 15 months ago. This may seem an unusual partnership given Subaru's historic ties with Prodrive in the UK, but Cosworth already had experience with the turbocharged flat-four through its US tuning division. Based in California, it has been modifying boxer engines for the West Coast tuning scene for several years – often extracting between 600 and 800bhp.
So five Imprezas were delivered to Cosworth's unassuming headquarters in Northampton for work to be carried out. You can read exactly what's been done to the engine on the opposite page, but it's worth bearing in mind at this stage that although its reputation has been built on engine development, Cosworth's talents run deeper. The firm took responsibility for the entire development process, the result of which is a car with new Eibach spring and Bilstein damper units, a 10mm front suspension drop, a 10mm wider rear track and AP Racing front brakes with six-pot calipers gripping 355mm discs with a unique groove pattern.
The aim isn't to create a trackday special, but a fast road car, one that retains the driveability of the standard STI but, in the words of Kenyon Neads, Subaru UK's marketing director, 'takes it to the next level'. He told evo: 'When you do drive it, I think you'll find that the dynamics, the composure, stability and power delivery has created a very different and better car.'
The understated appearance of the CS400 backs up his assertions. The rear wing is unaltered, the wheels are still 'only' 18s, and the colour choices are limited to silver, red and the dark grey pictured here. Look closer and you might spot the new mesh grille, badges (besides the Cosworth branding, each car will wear an engine signature and a numbered plaque on the door sill) and the darkened glass. Although this car currently wears Toyo rubber, production versions will be fitted with Michelin's Pilot Sport 3.
Inside, the seats have been re-trimmed and feature fatter bolstering, while the liberal application of piano-black inserts has helped lift the ambience a fraction – though it still doesn't look or feel like a 50-grand car. Which is what the CS400 is. £49,995 is a near doubling of the £27,590 a standard STI costs, leaving a yawning price gap between the two.
But not necessarily for much longer. 'This is the ultimate manifestation of where we think we can take the STI,' Neads told us, 'but this partnership with Cosworth is ongoing.' In other words the two firms have invested heavily in this car – too heavily for them to call it quits after just 75 units. So expect to see another model, probably with around 350bhp.
One final thought about the CS400. The reputations of both firms are on the line: for Subaru this is a chance to prove it hasn't lost its touch, that the hatchback Impreza platform can play host to a drivers' car every bit as good as the old saloons. For Cosworth this is the first time its name has appeared on a road car since the demise of the Escort Cosworth in 1996. Both are determined to get it right. Let's hope the chemistry has worked. 
Extra Info
It's the bottom end where most work has been done, including re-grinding the bores; but the head gaskets and oil pump are also new, as are other engine internals, plus the exhaust and turbo. Larger capacity manifolds and wider-bore downpipes reduce back pressure, while the turbo is a unique combination of parts, built around a Garrett centre section. None of the modifications will be sold as aftermarket parts.
'What's crucial to us is that the CS400 drives, feels and behaves like an original Subaru model,' says Woods. 'It's fine developing an 800bhp car in the US because there's every expectation that it will expire at some point. Buy one from a UK Subaru dealer and there's every expectation that it won't. Durability is crucial.'