Tesla reports second quarter loss of £220million, production still growing
Tesla continues to make a loss, but still has big plans for the future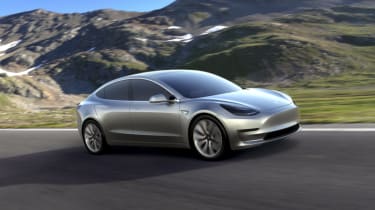 Tesla Motors has announced its financial results for the second quarter, confirming that the company continues to make a loss – but it's not all bad news for the California-based electric vehicle firm.
While posting a loss of £220million, the company is also investing heavily, with £222million put towards production expansion and the firm's enormous battery 'Gigafactory', with significant expenses as the company continues to engineer its upcoming affordable electric vehicle, the Model 3.
It's been a busy quarter for Tesla too. As well as the opening of the Gigafactory – which is 14 per cent complete at the moment, but already in operation – the last few months have brought Elon Musk's 'Master plan, part deux' announcement for Tesla's future, the announcement of a merger with SolarCity, and a significant boost in cash flow from Model 3 deposits.
Conversely, Tesla still isnt' delivering as many Model S and Model X vehicles as it intends, though the company puts that down to production rather than sales, as the firm is still ramping up production.
> More: Tesla confirms electric minibus and new Model Y SUV
Tesla notes that the majority of its Q2 production – almost half – came in the last month of the quarter, by which point it was making 2000 cars per week.
Between the Model S and Model X, Tesla expects to produce 50,000 cars over the second half of the year. Overall, new vehicle orders grew year-on-year by 67 per cent.
There are plans to open more Tesla stores across the globe and the company 'anticipates adding new partners' to fund its continuing growth.
There's little doubt the next few years will also see losses - Tesla anticipates a continual rise in operating expenses, mainly thanks to the Model 3 – but all remains calm on the surface. With Model 3 engineering well underway, Tesla will be hoping it can bring the car to market on cue: it is almost certainly the car required to pull Tesla back into the black.