Tesla Version 8.0 software coming to UK cars soon
Latest software update features Autopilot, climate and navigation improvements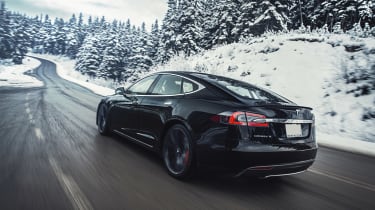 Tesla's latest over-the-air software update, Version 8.0, is today rolling out to customers in the United States and will soon be available to UK Tesla drivers.
The latest update includes changes to several of the car's systems, including the constant hot topic that is Tesla Autopilot, the firm's semi-autonomous driving system.
Among the Autopilot changes are improvements in the radar system's signal processing, allowing it to more clearly picture the world around it in a 3D image.
The system's display has now been updated too. Drivers will be shown when a car is entering the road from a curve in front of them - such as vehicles driving down a motorway slip road - and most pertinently given recent accidents while Autopilot has been engaged, the system will now disengage the auto-steering function if the driver ignores warnings to place their hands on the wheel.
Additionally, Autopilot should now be smoother in stop and go traffic, operates having scanned for vehicles two cars ahead to improve its reaction time in emergency braking situations, and will drive further away from a car straying towards you in its lane as you overtake. In all, Tesla claims 200 improvements to Autopilot for Version 8.0.
Elsewhere, Tesla has made improvements to the infotainment system. The mapping and navigation functions should now be more intuitive, with both a bigger map graphic on the central touchscreen, destination-seeking on a single touch or voice command. Voice commands themselves have been improved, now providing a transcript allowing you to confirm your commands, and popping up with visual hints and tips when you've activated the voice system.
Swipe commands in the satnav can now route to either home or work - the car will seek out the ideal route based on whether you're at home or work at the time, on a single swipe.
And as the press highlights the dangers of leaving children or animals in the car in warm weather, the car's climate control system can now keep the car at a safe temperature for hours at a time. On the Version 8.0 announcement, Tesla Motors CEO Elon Musk tweeted that the car could keep the temperature at a safe level for up to a year, on a full charge - we suspect basic food and water needs would become a bigger issue for any creature inside the car for that length of time…