Tesla: All our cars now come with autonomous hardware
Every Tesla rolling off the production line will now have the hardware in place to be able to drive itself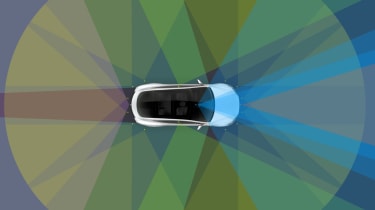 Electric car firm Tesla Motors has announced that all its cars produced from this point forward will include the hardware necessary for autonomous driving.
Along with electric power, Tesla sees autonomous technology as crucial in improving safety and building the future market for on-demand mobility.
All Tesla vehicles produced in the firm's factory will now have all the hardware required for full self-driving capabilities - even if certain aspects of the software won't be activated.
Effectively, it future-proofs all of Tesla's cars from this day forward, ensuring the company's future over-the-air updates will eventually allow all its vehicles to function entirely autonomously when required.
The self-driving hardware includes eight cameras that give the car a full 360 degrees of vision at a range of up to 250 metres. Twelve ultrasonic sensors augment this and can detect both hard and soft objects at twice the distance possible of previous versions.
A forward-facing radar provides further data, and improved processing now allows it to see through heavy rain, fog and dust, and Tesla says it can even scan through the car ahead.
> Also read: Tesla Model 3 deliveries delayed until 2018
A new onboard computer - with forty times the computing power of existing models - makes sense of all the data. The new kit has already been installed in Model S and Model X vehicles rolling off the production line now, and it'll be standard fitment in the upcoming Tesla Model 3.
Tesla Motors CEO Elon Musk has confirmed that it won't be possible to retrofit the hardware to vehicles already on the road, adding the 'cost delta is more than buying a new car'.
Musk has stated on several occasions - notably following a recent high-profile fatal accident in an Autopilot-equipped vehicle - that autonomous vehicles will contribute hugely to vehicle safety in the future.