Tesla buying German engineering firm to boost production output
Formation of the new 'Tesla Grohmann Engineering' could help Tesla to meet its lofty production targets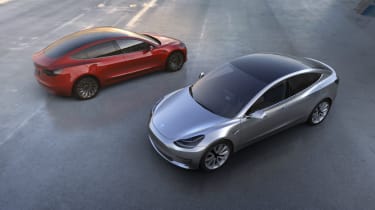 Electric vehicle manufacturer Tesla Motors has announced its acquisition of German technological firm Grohmann Engineering, as part of its mission to increase automobile production to half a million annual units by 2018.
Tesla, which currently produces fewer than 100,000 vehicles per year, currently faces a unique challenge as it attempts to ramp up production at its manufacturing facilities to meet demand – most notably for the more affordable Model 3 electric car, set to arrive in 2018.
By entering into an agreement to acquire Grohmann – for the formation of Tesla Grohmann Engineering – the Californian firm will make use of the German company's expertise in advanced engineering and automated manufacturing methods.
In effect, Grohmann won't help Tesla build cars, so much as build the machines that will be used to build cars. As Tesla puts it, at very high production volumes 'the factory becomes more of a product than the product itself', its factories commanding 'an order of magnitude more attention in engineering than what they produce'.
> More: Full review of the Tesla Model S electric car
Over the past four years Tesla has managed to increase its rate of production at its Fremont factory by 400 per cent, but requires an even steeper growth kerb in order to meet demand for its future products.
The company's Nevada-based battery 'Gigafactory' will supply batteries for those upcoming vehicles, but currently the company is not placed to meet demand for the cars themselves. The Model 3, announced back in March 2016, has attracted more than a third of a million reservations so far – a third more than Tesla's total cumulative Model S and Model X sales so far.
More advanced, higher-output production facilities will also enable Tesla to attain suitable economies of scale, in turn helping the company meet its projected $35,000 starting price – around £28,000 at current exchange rates.
While the deal hasn't yet been sealed – it's still subject to approval from regulators in Germany – it expects to close the acquisition in early 2017. From there, Tesla says it expects to add over 1000 advanced engineering and skilled technician jobs at the German location, in Prüm, over the next two years.
Tesla is still taking £1000 deposits in the UK for the Model 3, which is expected to appear by mid 2018.