Tesla posts £468m loss as Model 3 production woes deepen
Tesla lost $619m (£468m) in Q3 of 2017 and built only 260 of its 1500 Model 3 production target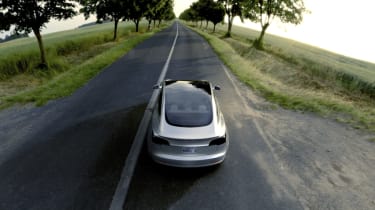 Tesla's ambitions to crack the mass market with its Model 3 hatch are running low on energy as production delays have resulted in Elon Musk's car company posting record losses for Q3 of 2017, racking up $619m (£468m) in the three months to the end of September.
The electric car firm confirmed it had produced just 260 examples of Model 3 during the third quarter, less than 20 per of the 1500 examples it said it would build. Tesla has also said it will now push back its target of producing 5,000 cars a week from December 2017 to 'early 2018.'
> Tesla Model 3 - full details on the new EV
In a statement, the company said that it was continuing to make significant progress each week in the Model 3's production bottlenecks. But it did also say "the nature of manufacturing challenges during a ramp (up) such as this makes it difficult to predict exactly how long it will take for all bottlenecks to be cleared or when new ones will appear."
One of the main reasons given for the Model 3's production constraints was the slow down in progress on its Nevada Gigafactory and the need for the battery production process to be redesigned. 
Naturally Elon Musk is upbeat and "optimistic, because it's clear what changes need to be made", but Model 3 production is not Telsa's only concern. While revenues rose in the region of 30 per cent during the last 12 months to around $3bn, the company's cash burn continues to make Formula 1 look like a pocket money sport.
With a further $1bn of investment expected to be needed during the last quarter alone, 2017's total investment will be at least $2bn. With delays in revenues due to the Model 3's delay Tesla's cash demands heading into 2018 could be greater still.