Tesla Model 3 'to outpunch BMW M3'
Tesla CEO, Elon Musk, claims the forthcoming Tesla Model 3 will be quicker and better handling than a BMW M3.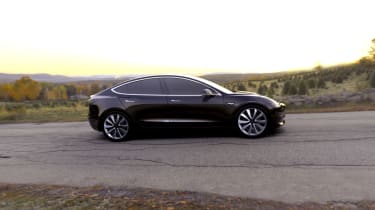 Tesla CEO, Elon Musk, threw down the gauntlet with claims that the performance Tesla Model 3 will be faster than a BMW M3, as he took to social media to disclose benchmark performance figures for the upcoming, all-electric sports saloon.
In a series of posts, Musk divulged key figures boasted by the range-topping Model 3, offering them to a BMW M3 for the purpose of comparison. 'Cost is $78k. About same as BMW M3, but 15 per cent quicker and with better handling,' he said. He went on to reveal a claimed 0-60mph time of 3.5sec and a 155mph top speed; 0.6sec faster than the M3 but the same top speed.
Getting progressively punchier with his comments, Musk said the Model 3 'will beat anything in its class on the track'. However, he stopped short of detailing the Model 3's full specification, so whether it has the necessary hardware to corroborate that statement remains to be seen.
Musk, though, did confirm, that like the faster Model S and X variants, the performance Model 3 will employ a dual motor set-up – with a motor powering each axle. Both draw power from a collection of batteries, located in the chassis floor, which have a capacity that translates to a 310-mile range, according to the entrepreneur.
> Tesla Model 3: specs, prices and full details on the all-electric compact exec
Converting the quoted price to pounds sterling sees the Model 3 come in at £58k, a tad less than the entry-level M3. That said, when the Model 3 eventually lands on UK shores it's likely to cost more based on the difference in price of the Model S in the UK and USA – £123k and $135k respectively. Apply that logic here and it's fair to assume the Model 3 will retail closer to £80k.