Tesla update
Tesla confirms new saloon and California factory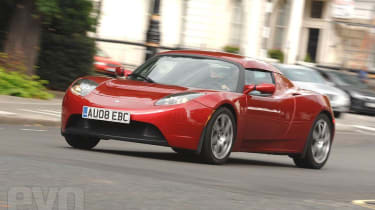 Tesla Motors is set to move into the mainstream with its new Model S, an all-electric, five-seat luxury saloon. It'll be the second car in its zero-emission line-up and priced at c£33,000, apparently, severely undercutting the Roadster.
It is set to offer a similar 240-mile range to the Roadster from its Lithium-ion battery pack, with minimal compromise to performance. Final design and prototyping are scheduled to be carried out by the end of 2008 and Tesla hopes to add more people to their Roadster waiting lists. 1200 have already put down money for one of the £92k drop-tops.
The company has secured £140m in capital to invest in a new 89-acre site for a new assembly plant to build the Model S. The site will also be Tesla's new corporate headquarters with a new R&D facility creating 1000 jobs.
Construction should begin in summer 2009 in San Jose, California, 20 miles up the road from Tesla's current site.