Saleen to tune Tesla Model S
The world of tuning is to take a step into the unknown, as Saleen confirms it wants to tune the Tesla Model S. Details here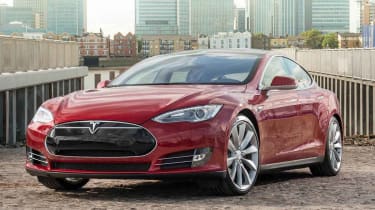 American tuner and supercar builder Saleen, has announced that it will be entering the world of batteries and motors as it plans to build a 'revolutionary' electric supercar based on the Tesla Model S.
An all American brand typically known for its highly tuned Mustangs, Saleen has a good knowledge of building exotica with its Veyron chasing S7 being America's first proper supercar. But with electric technology advancing at such a rapid rate and the American carmaker keen to expand its presence in the automotive market, Saleen plans to create something that builds on what it calls a 'defining car' in the electric segment.
Even though Saleen's choice to switch from 7-litres of oil burning S7 to a two tonne electric Tesla hatchback might not seem like the most, ehem, 'volting' news, it mustn't be forgotten that the Model S can produce the electric equivalent of 469bhp and 443lb ft of torque in top spec. And with experienced tuners Saleen at the helm, there's much optimism that the Model S could become significantly quicker.
Emphasising this prospect was Steve Saleen, the company's CEO, who said 'I fully intend to produce one of the most compelling Tesla's to ever hit the roadway.' So could Saleen be the one to take 'charge' (sorry) of the electric supercar market?
With no confirmation of when renderings or specs will be revealed we can only guess how the car will perform. But with the standard Model S already being one of the most exciting electric cars available to buy today, we certainly can't wait to find out.