Tesla Roadster
130mph electric-powered sports car to be built by Lotus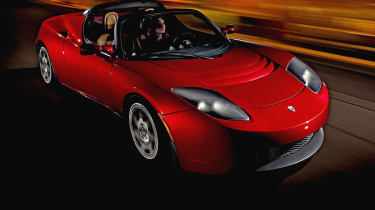 The image of the electric car is about to receive a boost in the form of the Tesla Roadster, a two-seater claimed to do 0-60mph in 4.0sec, reach a top speed of over 130mph, and travel up to 250 miles between charges of its lithium-ion batteries.
Although Tesla is an American company, the car is based on an Elise floorpan, was styled by a team led by Lotus Design's Barney Hatt, and will be assembled at the Lotus factory in Hethel.
First deliveries of the Tesla, which will be sold primarily in the US, begin in summer 2007, although with a price tag of $100,000 (approximately £53,000), buyers will need to be especially environmentally minded to opt for electric-powered sports car thrills.
Tesla is keen that its car should seem as 'normal' as possible; it meets US crash requirements, is airbag-equipped and has such luxuries as air-conditioning and heated seats. Its boot will even accommodate a set of golf clubs.
While there have been other well intentioned but inevitably doomed electric car projects in the past, the Tesla operation is funded to the tune of $40m and can list the co-founder of PayPal, Elon Musk, amongst its board members.
The Tesla isn't the only electric sports car project in the States. In evo 093 we reported on Silicon Valley-based WrightSpeed, whose technology is currently packaged in an Ariel Atom test-bed that has the distinction of having out-dragged a Porsche Carrera GT.