250bhp Toyota GR Corolla hot hatch in the pipeline
Following in the footsteps of the GR Yaris homologation special, Toyota's Gazoo Racing division is to launch a hot Corolla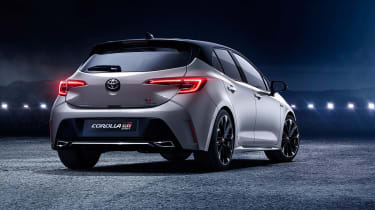 The dust is still to settle from the reveal of the stirring new GR Yaris, and although the first cars won't hit the UK until the end of the year, rumours of yet another Gazoo Racing hot hatch have already arisen. Reported by our sister title Auto Express, a performance GR Corolla is due to hit UK shores by 2023.
Auto Express revealed that the model will likely feature the same 1.6-litre, turbocharged three-cylinder G16E-GTS power plant as in the GR Yaris, mated to a six-speed manual gearbox. In order to give the range-topper some breathing room, however, rumours suggest power will be turned down from the 268bhp of the homologation special to the 250bhp mark.
Such a power figure would put it directly in line with the Hyundai i30 N, Ford Focus ST and Volkswagen Golf GTI, making respective 0-62mph times and pricing of around 6.0sec and £30,000 likely.
> Toyota GR Yaris revealed in full – return of the homologation special
Toyota New Global Architecture underpinnings lie beneath the standard Corolla, with multi-link suspension giving the marque's boffins a good platform upon which to build a hot hatch. Though outright performance will be reserved for the Yaris, we needn't fret just yet, as Hyundai's i30 N proves that less focused machines aren't necessarily any less enjoyable...
Gazoo Racing's slew of new models comes amid a push to build Toyota's reputation for driver's cars. Thanks to its dedication to low-emissions technology from the get-go, low fleet-average emissions figures allow the brand to produce less efficient cars such as the recent Supra, GR Yaris, and now this.
Speaking to Auto Express, Toyota's European president and CEO, Johan van Zyl, said that the recent GR Yaris had been facilitated by the strong focus on hybridisation elsewhere in the range: 'Is GR Yaris really a volume contributor? No. It's not going to be. But does it help with the positioning of your cars – more fun, excitement? Yes, it helps. And if you add it to the mix and calculate the impact to our CO2 averages in g/km, we can accommodate that.'
> Hyundai i30 N review - a great first try at hot hatch heroics