Ferrari-powered Toyota GT86 goes drifting - video
Ryan Tuerck's remarkable Ferrari-powered Toyota "GT4586" has its first track outing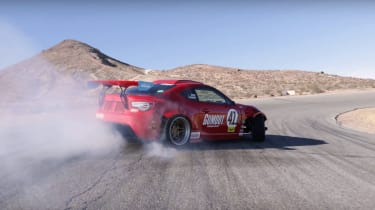 If you like cars and you've spent any length of time on the internet over the past year or so you'll probably have heard of Ryan Tuerck's Toyota GT86.
That's because it's no normal Toyota GT86, but one whose 2-litre Boxer-four has been replaced by the 4.5-litre V8 from a Ferrari 458.
And as you can see in Donut Media's latest video above, that makes for quite a combination, as Ryan - a professional drifter - gives the car its first proper shakedown around Willow Springs International Raceway in California.
As you can imagine, it hasn't been the simplest of engine swaps. Not only was the GT86 engine bay not really designed to accept an engine the shape of Ferrari's naturally-aspirated V8, but it's also not designed to accept an engine whose intake sticks up quite so high - not a problem in the mid-engined V8.
> More: Toyota GT86 review - the best budget sports car on sale?
You'll also have noticed that the intake plenum faces the wrong direction for its front-engined application, so the throttle bodies cut into the bulkhead at the windscreen. And there's... well, no bonnet at this stage.
But it looks absolutely remarkable, wide-bodied and painted Ferrari red, sounds spectacular (note also the exhausts exiting ahead of the front wheels), and seems to go pretty well too.
Amazingly, it isn't the first time someone has dropped a V8 into a GT86 either - though it is the first Ferrari-powered example.
In Japan, professional drifter Max Orido competes in a GT86 powered by a 5-litre Lexus IS F V8, while also in Japan, tuner JUN has teamed up with New Zealand firm Synergy to create a 2.4-litre V8 from two Kawasaki four-cylinder engines, resulting in a GT86 with over 350bhp and an 11,600rpm red line.