Choosing your Championship - Tin-tops
All the UK Tin-top championships for 2009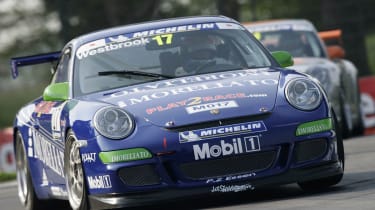 Alfashop Alfa Romeo  Entering its 29th season in 2009 it remains one of the best supported club racing series in the UK. It offers the opportunity to race in a very friendly, yet highly competitive environment, with a wide variety of budget options. Newcomers to racing are warmly welcomed. This open to any production-based Alfa Romeo and is run in six classes, offering the opportunity to race a fully modified car on slicks or a more standard version on Dunlop control tyres.Can you buy a car and run it yourself? - YesCan you buy car and have it run by a team? - YesCan the teams provide and run the car for you? - NoHow many races are there a year? - 9Average grid size - 18Race format - Races are around 20 minutes long with a similar period for qualifyingCost of new car - £20-30,000 Typical cost of second-hand car - £5-20,000Typical budget - £5-20,000 per yearLink to series website - www.brscc.co.ukTypical racer (% professional, % amateur) - 0/100
BritcarEndurance racing series for GT cars with a variety of events that includes night racing and a 24-hour race at Silverstone. Cars are similar to those in British GT, except the regulations allow a wider spread of cars. Expect to see Australian V8 supercars battling with ex-DTM machinery and 911GT cars.  Can you buy a car and run it yourself? - YesCan you buy car and have it run by a team? - YesCan the teams provide and run the car for you? - No but with multi driver cars you car buy a seat.How many races are there a year? - 8Average grid size - 30Race format - Races vary in length from 2 hours to 24. Some events are double headersCost of new car - £15-100,000Typical cost of second-hand car  £15-100,000Typical budget  £25-100,000 per yearLink to series website - www.eerc.co.uk Typical racer (% professional, % amateur) - 30/70
Britcar Production S1A race series that evolved from the popularity of Britcar. Format is very similar except the cars are production based with limited modifications. Expect to see BMW M3s, Honda Integras and Seat Cupra Rs.  Can you buy a car and run it yourself? - YesCan you buy car and have it run by a team? - YesCan the teams provide and run the car for you? - No but with multi driver cars you car buy a seat.How many races are there a year? - 8Average grid size - 20Race format - Races vary in length but are around 2 hours long. Most events are double headersCost of new car - £15-30,000Typical cost of second-hand car - £10-20,000Typical budget - £15-30,000 per yearLink to series website - www.eerc.co.uk Typical racer (% professional, % amateur) - 20/80
British GTHigh profile GT racing with professional teams and drivers and big budgets. All are two-driver cars, with some teams fielding two professionals and others sharing with a experienced paying amateur driver.Can you buy a car and run it yourself? - YesCan you buy car and have it run by a team? - YesCan the teams provide and run the car for you? - NoHow many races are there a year? - 7 meetings Average grid size - 20Race format - One or two hour racesCost of new car - £100,000Typical cost of second-hand car - £80,000Typical budget - £60-150,000Link to series website - www.fota.co.ukTypical racer (% professional, % amateur) - 50/50
Citroen 2CV  Definitely aimed at those who want to race for fun rather than those with a career in mind. The cars are slow but racing is very close and the highlight of the season is the 24-hour race at SnettertonCan you buy a car and run it yourself? - YesCan you buy car and have it run by a team? - YesCan the teams provide and run the car for you? - NoHow many races are there a year? - 6Average grid size - 20Race format - Races are around 20 minutes long with a similar period for qualifying plus the 24-hour raceCost of new car - £n/a Typical cost of second-hand car - £5,000 Typical budget - £5-10,000 per yearLink to series website - www.2cvracing.org.ukTypical racer (% professional, % amateur) - 0/100
CSL CupRace series new for 2009 catering for the E46 M3. Two classes are available; 'Standard' and 'Modified'. Equalisation measures will be in place to ensure the M3 is on equal footing with the CSL models. The standard class is designed to be a cost effective entry to racing the E46 M3/CSL, items such as suspension, wheels and brakes are control items so each car is identical thus maximising the input of the driver. Can you buy a car and run it yourself? - YesCan you buy car and have it run by a team? - YesCan the teams provide and run the car for you? - YesHow many races are there a year? - 6 rounds of two races eachAverage grid size - 20Race format - 20 minutes qualifying and two twenty minute racesCost of new car - £20-40,000Typical cost of second-hand car - £15-30,000Typical budget - £10-20,000Link to series website - www.cslcup.co.ukTypical racer (% professional, % amateur) - 0/100
Dunlop Mini ChallengeOne makefor the modern Mini. There are two classes – the standard 1.6-litre, 133bhp Coopers and the supercharged 'S' class with 210bhp. The races run in the inaugural 'Great & British' Dunlop Motorsport Festival package run by the BARC. All nine rounds will be promoted heavily by Dunlop and a minimum of twelve races will be televised on satellite television. Can you buy a car and run it yourself? - YesCan you buy car and have it run by a team? - YesCan the teams provide and run the car for you? - YesHow many races are there a year? - 16Average grid size - 32Race format  Two races held over eight weekends. All meetings comprise of 30 minutes of free practice and 20 minutes qualifying on Saturday with two twenty minute races held on Sunday Cost of new car - £15-25,000Typical cost of second-hand car - £10-20,000Typical budget - £15-30,000 per yearLink to series website  www.minichallenge.co.uk www.driversknow.comTypical racer (% professional, % amateur) - 10/90
Dunlop British Touring CarThe premier Saloon car series in the UK with manufacturer entries from Seat and Vauxhall alongside professional independent teams running MGs, Hondas and BMWs. All eight rounds have extensive TV and national press coverage including live broadcasts on ITV1 Can you buy a car and run it yourself? - NoCan you buy car and have it run by a team? - YesCan the teams provide and run the car for you? - YesHow many races are there a year? - 24Average grid size - 18Race format - Three races held over eight weekends with free practice and qualifying on Saturday and all races held on Sunday Cost of new car - £bespoke, built by the teamsTypical cost of second-hand car - £100,000 upwardsTypical budget - £200,000 upwards per yearLink to series website - www.btcc.netTypical racer (% professional, % amateur) - 90/10
Easytrack BMW   This for BMW two door coupe cars of the E30 series running either the 8-valve 1.8-litre four-cylinder engines. All competing vehicles shall be road legal and be capable of passing an MOT test. The cars are therefore very cheap and the racing is always close. There are a lot of novices attracted to this series by the friendly atmosphere and easy access. Can you buy a car and run it yourself? - Yes Can you buy car and have it run by a team? - No Can the teams provide and run the car for you? - No How many races are there a year? - 7 meetings Average grid size  - 20 Race format  - Twenty minute races Cost of new car - £4,000 Typical cost of second-hand car - £4,000 Typical budget - £3-5,000 Link to series website - www.barc.net Typical racer (% professional, % amateur) - 0/100 Elf Renault Clio CupSupport race for the BTCC and it has been used by many career drivers on their way to the headline  s. The racing is always close and action packed and is one of the higher profile tin top  s in the UK but still has a large number of amateur drivers in the field.Can you buy a car and run it yourself? - YesCan you buy car and have it run by a team? - YesCan the teams provide and run the car for you? - YesHow many races are there a year? - 10 meetings all double headersAverage grid size - 30Race format - Twenty minute races with a standing start following a twenty minute qualifying session. Cost of new car - £25,000Typical cost of second-hand car - £15,000Typical budget - £50,000Link to series website - www.renaultsport.co.uk/ s/cliocupTypical racer (% professional, % amateur) - 40/60
Euro SaloonsThis for drivers participating in production based saloon and sports cars which have been sold within in the European Union. All marques or brands are eligible and body styles permitted include saloon, estate, coupe, hatchback, convertible, GT, van and pick-up. All competition cars should be based on production versions, and at least one example of the car to be raced must have been registered for road use. Many kit cars are acceptable, however for low volume vehicles it is the responsibility of the competitor to supply evidence of such registration. Can you buy a car and run it yourself? - YesCan you buy car and have it run by a team? - YesCan the teams provide and run the car for you? - NoHow many races are there a year? - 9Average grid size - 18Race format  Races are around 20 minutes long with a similar period for qualifyingCost of new car - £20-30,000 Typical cost of second-hand car - £5-20,000Typical budget - £5-20,000 per yearLink to series website - www.brscc.co.ukTypical racer (% professional, % amateur) - 0/100
Ferrari Open Challenge This series is open to just about any Ferrari racer car and you are allowed a comprehensive range of modifications. Always makes for an exciting spectacle. Can you buy a car and run it yourself? - Yes Can you buy car and have it run by a team? - Yes Can the teams provide and run the car for you? - No How many races are there a year? - 5 meetings with 1 double-header Average grid size - 20 Race format - Twenty minute races with a standing start following a twenty minute qualifying session. Cost of new car - £100,000 Typical cost of second-hand car - £80,000 Typical budget  £30-£80,000 Link to series website - www.ferrariownersclub.co.uk Typical racer (% professional, % amateur) - 10/90
Ford Fiesta   It started in 1997 as a Club, having formerly been a Ford manufacturer series. The Fiesta cars run to a strict Group N format, which means that the emphasis is squarely on the driver's ability. When the Fiesta Zetec 1400 also joined the grids grew further. 2006 sees the current model Fiesta ST eligible. Can you buy a car and run it yourself? - Yes Can you buy car and have it run by a team? - Yes Can the teams provide and run the car for you? - No How many races are there a year? - 11 Average grid size - 18 Race format  Races are around 20 minutes long with a similar period for qualifying Cost of new car - £10-15,000 Typical cost of second-hand car - £5-10,000 Typical budget - £5-12,000 per year Link to series website - www.brscc.co.uk Typical racer (% professional, % amateur) - 0/100 Ford Saloon Car  Introduced in 1990, to cater for the growing numbers of Ford Saloon Car competitors who wished to just race against other Ford racing saloon cars. Classes A, B, and C are the modified section with cars ranging from Escort Cosworths, through to Mark 1 and 2 Escort RS 2000s and then blindingly quick Fiestas. Classes D and E will mirror the successful classes B and C in terms of types of cars, but differs in that it is for near showroom types.Can you buy a car and run it yourself? - YesCan you buy car and have it run by a team? - YesCan the teams provide and run the car for you? - NoHow many races are there a year? - 11Average grid size - 30Race format - Races are around 20 minutes long with a similar period for qualifyingCost of new car - £10-25,000Typical cost of second-hand car - £5-£20,000Typical budget - £8-20,000 per yearLink to series website - www.brscc.co.ukTypical racer (% professional, % amateur) - 0/100
Ford XR ChallengeThe BRSCC Ford XR Challenge is the original Ford one make saloon car race  . When the next generation model superseded the Fiesta XR2, the series passed into a clubman format and is run by Ford Racing UK. The challenge is run to a strict Group N specification and is policed firmly to ensure that competitors comply with the regulations. Can you buy a car and run it yourself? - YesCan you buy car and have it run by a team? - YesCan the teams provide and run the car for you? - NoHow many races are there a year? - 11Average grid size - 30Race format - Races are around 20 minutes long with a similar period for qualifyingCost of new car - £10-25,000Typical cost of second-hand car - £5-20,000Typical budget - £8-20,000 per yearLink to series website - www.brscc.co.ukTypical racer (% professional, % amateur) - 0/100
Hot Hatch  750 Motor club series for 'Hatchbacks', saloons and coupes available for sale in the UK. 'Homologation Specials' are not permitted. There are three classes  upto 1400cc. 1401 to 1600cc and 1601 to 2000cc. Equality of performance is maintained by minimum weight of cars.Can you buy a car and run it yourself? - YesCan you buy car and have it run by a team? - YesCan the teams provide and run the car for you? - NoHow many races are there a year? - 10 meetings with a mix of single races and double headersAverage grid size - 30Race format  Twenty minute races with a standing start following a twenty minute qualifying session. Cost of new car - £n/aTypical cost of second-hand car - £3-15,000Typical budget  £5-20,000Link to series website - www.750mc.co.ukTypical racer (% professional, % amateur) - 0/100
Kumho BMW  The BARC's Kumho BMWis open to any production BMW sold in the UK. The aim of this to provide a closely competitive series for drivers, having a low-cost entry class where cars can be competitive running standard engines, and a ladder of increasing cost and performance, accommodating the latest vehicles. Can you buy a car and run it yourself? - YesCan you buy car and have it run by a team? - NoCan the teams provide and run the car for you? - NoHow many races are there a year? - 12 rounds at 8 meetings Average grid size - 20Race format - Twenty minute racesCost of new car - £20,000 £30,000Typical cost of second-hand car - £10-20,000Typical budget  £10-£20,000Link to series website - www.bmwrdc.comTypical racer (% professional, % amateur) - 0/100
Legends  Scaled down classic car look-a-likes based around a space-frame design powered by a Yamaha 1200cc engine. Races meetings are run with heats and a final.Can you buy a car and run it yourself? - YesCan you buy car and have it run by a team? - NoCan the teams provide and run the car for you? - NoHow many races are there a year? - 14 rounds of three races eachAverage grid size - 20Race format - Two heats and a finalCost of new car - £12,000Typical cost of second-hand car - £8-10,000Typical budget - £10-20,000Link to series website - www.bmwrdc.comTypical racer (% professional, % amateur) - 0/100
Ma5da MX5  A full 20 race calendar over 9 rounds with entry fees from £275.00 per weekend, full MotorsTV and Channel 5 televised coverage of every race, driver hospitality and all at no extra cost to the Driver.Can you buy a car and run it yourself? - YesCan you buy car and have it run by a team? - YesCan the teams provide and run the car for you? - NoHow many races are there a year? - 20Average grid size - 26Race format - Races are around 20 minutes long with a similar period for qualifyingCost of new car - £8000 Typical cost of second-hand car - £5-7000Typical budget - £5-8,000 per yearLink to series website - www.brscc.co.ukTypical racer (% professional, % amateur) - 0/100
Michelin Porsche Club  The Porsche Club continues to be an integral part of Porsche racing in the UK, and is the major event organised by the Porsche Club GB. Rule changes in recent seasons have seen the introduction of models such as the 3.2 Carrera, the 968CS and the 944S2 and this evolution of the rule structure has seen an influx of newer cars. However, all of the older cars that the series has long catered for continue to be raced and the class structure is designed to ensure that all cars are as competitive as possible within their respective classesCan you buy a car and run it yourself? - YesCan you buy car and have it run by a team? - YesCan the teams provide and run the car for you? - NoHow many races are there a year? - 8 meetingsAverage grid size - 24Race format - Races are around 20 minutes long with a similar period for qualifyingCost of new car - £n/a Typical cost of second-hand car - £15-35,000Typical budget - £10-30,000 per yearLink to series website - www.msdpcgb.co.ukTypical racer (% professional, % amateur) - 0/100
Michelin Porsche OpenThe Michelin Porsche Open provides racing for a great diversity of Porsche models, ranging from 911GT2s through to 993 and 996 Carreras and 944 Turbos. Newer models including the 911GT3RS and 911 GT3 Cup cars are encouraged, while awesome models such as the 996GT2 and 935 that set the pace in 2005 have a home in the series. Older cars, including RSRs and earlier Supercup cars will add to the diversity. Can you buy a car and run it yourself? - YesCan you buy car and have it run by a team? - YesCan the teams provide and run the car for you? - NoHow many races are there a year? - 8 meetingsAverage grid size - 24Race format - Races are around 20 minutes long with a similar period for qualifyingCost of new car - £50-100,000Typical cost of second-hand car  £25-80,000Typical budget  £20-30,000 per yearLink to series website - www.msdpcgb.co.ukTypical racer (% professional, % amateur) - 0/100
Mini MigliaTuned classic Minis with 1300cc engines and slick tyres and can be easily spotted with their fat wheels arches. Corner speeds are high and racing is close in athat has been popular for over 30 years. Can you buy a car and run it yourself? - YesCan you buy car and have it run by a team? - YesCan the teams provide and run the car for you? - NoHow many races are there a year? - 12Average grid size - 20Race format - Held over eight weekends the meetings are either single races or double headers. The races are around 20 minutes in lengthCost of new car - £15-25,000Typical cost of second-hand car - £10-20,000Typical budget - £15-30,000 per yearLink to series website - www.mini7.co.uk Typical racer (% professional, % amateur) - 10/90
Mini 7sClassic Minis with 1000cc engines and Dunlop racing tyres. They run at the same meetings as the faster Miglias and always provide the crowd and the drivers with action-packed racing. Can you buy a car and run it yourself? - YesCan you buy car and have it run by a team? - YesCan the teams provide and run the car for you? - NoHow many races are there a year? - 12Average grid size - 30Race format - Held over eight weekends the meetings are either single races or double headers. The races are around 20 minutes in lengthCost of new car - £12-20,000Typical cost of second-hand car - £5-10,000Typical budget - £10-15,000 per yearLink to series website - www.mini7.co.uk Typical racer (% professional, % amateur) - 0/100
Mighty MinisAnother for the classic Mini. This is one of the cheapest ways to go racing as the cars are almost completely standard. There are a number of classes if you want to make the car a little faster, but the entry level class is aimed at novices. The club is very friendly and they will help you through your first meeting. Can you buy a car and run it yourself? - YesCan you buy car and have it run by a team? - NoCan the teams provide and run the car for you? - NoHow many races are there a year? - 13Average grid size - 24Race format - Held over nine weekends the meetings are either single races or double headers. The races are around 20 minutes in lengthCost of new car - £3-6000Typical cost of second-hand car - £3-5,000Typical budget - £1-2,000 per yearLink to series website - www.mightyminis.co.uk Typical racer (% professional, % amateur) - 0/100
Porsche Carrera Cup GBSupport race for the BTCC and it has been used by many career drivers on their way to the headlines. The racing is always close and action-packed and is one of the higher profile tin-tops in the UK but still has a large number of amateur drivers in the field. Drivers race identical versions of the new 400bhp Porsche 911 GT3 Cup car. The prize fund has a purse in excess of £150,000. This is also run in a two-tier driver structure, allowing competitors to compete in either a professional or professional-amateur category, depending upon their profile and past performance. Can you buy a car and run it yourself? - YesCan you buy car and have it run by a team? - YesCan the teams provide and run the car for you? - YesHow many races are there a year? - 10 meetings all double headersAverage grid size - 20Race format - Twenty minute races with a standing start following a twenty minute qualifying session. Cost of new car - £100,000Typical cost of second-hand car - £80,000Typical budget - £80,000Link to series website - www.renaultsport.co.uk/ s/cliocupTypical racer (% professional, % amateur) - 40/60
Roadsports  If it's a sportscar produced in a reasonable volume, it's probably eligible. Current makes/marques include Aston Martin, Ferrari, Ginetta, Jensen Healey, Lotus, Marcos, MG, Morgan, Porsche, Renault, TVR, Triumph and Turner. Competition is split into separate classes based generally on engine capacity/car type.Can you buy a car and run it yourself? - YesCan you buy car and have it run by a team? - YesCan the teams provide and run the car for you? - NoHow many races are there a year? - 14 races over 9 meetings Average grid size - 20Race format - Twenty minute races and a twenty minute qualifying session at each meeting Cost of new car - £15-50,000Typical cost of second-hand car - £8-40,000Typical budget - £10-25,000Link to series website - www.750mc.co.uk
SAXMAXA junior for 14 to 17 year-olds all racing equal Citroen Saxo VTRs built between 1996 and 2000. The cars can be converted to racers yourself or you can have then built for you.  Can you buy a car and run it yourself? - YesCan you buy car and have it run by a team? - YesCan the teams provide and run the car for you? YesHow many races are there a year? - 10Average grid size - 20Race format - Held over seven weekends the meetings are either single races or double headers. The races are around 20 minutes in lengthCost of new car - £8000 - £10,000Typical cost of second-hand car - £6-8,000Typical budget - £10-12,000 per yearLink to series website - www.saxmax.co.uk Typical racer (% professional, % amateur) - 0/100
Stock Hatch  750 Motor club series for hatchbacks available for sale in the UK for at least three years prior to the current season. Up to 1400cc multi-valve and up to 1600cc two-valve-per-cylinder. There is a minimum weight including driver; the winning cars are ballasted.Can you buy a car and run it yourself? - YesCan you buy car and have it run by a team? - YesCan the teams provide and run the car for you? - NoHow many races are there a year? - 10 meetings with a mix of single races and double headersAverage grid size - 30Race format - Twenty minute races with a standing start following a twenty minute qualifying session. Cost of new car - £10-25,000Typical cost of second-hand car - £3-15,000Typical budget - £5-20,000Link to series website - www.750mc.co.ukTypical racer (% professional, % amateur) - 0/100
Toyo Tyres Racing Saloons Open to all forms of Saloon cars this series runs a number of classes that include hot hatches from Minis to Honda Civics. Race entry prices are low and club membership is free. Can you buy a car and run it yourself? - Yes Can you buy car and have it run by a team? - Yes Can the teams provide and run the car for you? - No How many races are there a year? 5 meetings all the double headers Average grid size - 30 Race format - Two twenty-minute races with a standing start following a twenty minute qualifying session. Cost of new car - £10-25,000 Typical cost of second-hand car - £3-15,000 Typical budget - £5-10,000 Link to series website - www.motorsportvision.co.uk Typical racer (% professional, % amateur) - 0/100
Uniroyal Fun CupThe races usually last between three and six hours, with one hour qualifying beforehand. The grid positions are normally made up from a ballot rather than times set in qualifying. Each race is split into sections of between 40 and 50 minutes, at the end of which there is a 'pit stop window' when each car must stop and may refuel. When in the pits, the driver must get out and either run round the car and get back in again, or be replaced by another driver. The cars are single-seaters with a strong tubular steel chassis, mildly modified Audi/VW 1.8-litre engines and gearbox, race brakes and fully adjustable suspension. Over it all is draped a VW Beetle look-alike glass fibre body.
Can you buy a car and run it yourself? - YesCan you buy car and have it run by a team? - YesCan the teams provide and run the car for you? - YesHow many races are there a year? - 6 in the UK plus Spa 25-hourAverage grid size - 20Race format - Races vary in length but are between 3 and 6 hoursCost of new car - £24,000Typical cost of second-hand car - £10-20,000Typical budget - £15-30,000 per yearLink to series website - www.uniroyalfuncup.co.ukTypical racer (% professional, % amateur) - 5/95
Volkswagen Racing Cup Launched in 2000, the Volkswagen Racing Cup runs to regulations that put all cars into a single class based on power to weight ratios. Open to any model of racing Volkswagen, the Cup has attracted drivers of the Beetle RSi, Corrado, Vento & Golf VR6, Golf GTI, R32, Scirocco GTI, Polo, Lupo and Bora models. Engine usage has been just as varied, with turbocharged and even turbo diesel power competing alongside the established 4 and 6 cylinder engines.
Can you buy a car and run it yourself? - YesCan you buy car and have it run by a team? - YesCan the teams provide and run the car for you? - YesHow many races are there a year? - 14 over 7 weekendsAverage grid size - 24Race format - Races are around 20 minutes long with a similar period for qualifyingCost of new car - £25 - £35kTypical cost of second-hand car - £5-15,000Typical budget - £10-20,000 per yearLink to series website - www.vw-cup.co.ukTypical racer (% professional, % amateur) - 0/100