It's an intriguing thing, the Light Car Company Rocket. Masterminded and built by former endurance racer Chris Craft and designed by Gordon Murray, it first appeared in 1992, yet until now I've never driven one and no one else has fired one around the West Circuit either. The Rocket also has the distinction of being the lightest car we've ever tested. At just 381kg it barely troubles our scales and it's less than half the weight of a KTM X-Bow. This particular car, which is one of the last of the 46 examples built, has a tuned 1070cc Yamaha bike engine that produces 171bhp (up from 143) at a heady 10,500rpm. Combining that kind of grunt with feather-like mass endows this Rocket with a power-to-weight figure of 456bhp per ton, or to put it another way more than a Porsche Carrera GT. Those stats are skewed somewhat once the driver and passenger have clambered aboard, and as all of our timed laps are run two-up, staff writer Stephen Dobie removes the rear cover and installs himself on the hidden perch, splaying his legs either side of my seat. I pull back on the sequential lever, first gear clunks home (the other four ratios can be found by punching the lever forward), ease out the clutch and head trackwards. The throttle and clutch are so light underfoot you can barely feel them, while the steering revolves so freely it's as if it's attached to a ball bearing. It takes a while to adjust to the delicacy, and to add to the difficulty the car's lightness means you struggle to get heat into the Toyo road tyres. Consequently they don't key into the tarmac. Then after just one timed lap we get called in as the screaming Yamaha has blown the Autodrome's noise limit. It may look like a Lotus F1 car from the '60s, but the Rocket feels far more at home on the road than on track. With a car this light, minute changes to the set-up make a big difference, and Chris's son, Luke, promises to bring the Rocket back once he's muffled the exhaust and altered the settings for circuit work. We expect to knock a huge chunk of time off the 1.28.8 we recorded.
Extra Info
Engine: In-line 4-cyl, 1070ccMax power: 171bhp @ 10,500rpmMax torque: 85lb ft @ 8500rpmTop speed: 150mph (est) 0-62mph: 3.8sec (est)Price as tested: £50,000On sale: Not any moreGood points: Minimalist motoring taken to another levelBad points: No-one designs a car for such a light car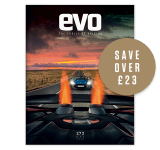 Subscribe to evo magazine
Subscribe today to have every issue of evo delivered straight to you. You'll SAVE 39% on the shop price, and get evo for its original cover price for a whole year!