In an interview with the TVR's Les Edgar, the man charged with reviving the British sports car manufacturer, he tells evo how the new Griffith will capture the best of old TVR while avoiding past mistakes.
TVR Griffith in detail
TVR recently posted a video of its new Griffith undergoing testing at Dunsfold airfield. Although the video doesn't give us a whole lot of new information, it is our first look at the new car in motion.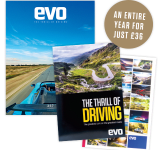 Subscribe to evo magazine
evo is 21 and to celebrate, we're returning to 1998 prices! Subscribe now to SAVE 39% on the shop price and get evo for its original cover price of £3.00 an issue, plus get a FREE gift worth £25!
> Click here for our last drive of the TVR Sagaris
The new Griffith is the first all new model from TVR since the Sagaris released in 2004 – and the first since the company was bought by entrepreneur Les Edgar in 2013. Featuring a front-mounted V8 engine and rear-wheel drive, the Griffith has models such as the Porsche 911, Aston Martin Vantage and Jaguar F-Type firmly in its sights. It will also spearhead the firm's return to motorsport as it targets a class victory in the Le Mans 24 hours.
On the surface the Griffith looks like a traditional TVR, but scratch beneath and you'll find a blend of cutting edge tech and old school engineering. The engine will provide the low-tech charm; the Griffith will be powered by an off-the-shelf 5.0-litre V8 from Ford. The tried and tested unit isn't the most advanced engine, but it's unbustable and should go a long way to shake off TVR's slightly shaky reputation for reliability. Better still, tweaks by British engineering specialists Cosworth are claimed to deliver even greater performance. The V8 feeds some side-exit exhausts that pop out from behind the front wheels and is a design detail that wouldn't look out of place on the original (1960s) Griffith and the smallest of rear-wings keeps the silhouette as clean as possible. 
As well as the aforementioned iStream construction process, the high-tech elements of the Griffith will be made up of some fairly sophisticated aerodynamics. For instance, the side exit exhausts have allowed TVR to create an almost totally flat underside, which means the Griffith is effectively a 'ground effects' car. The only notable external addition is the rear spoiler, which has been added to boost traction at high speeds, which will be crucial when the motorsport version of the Griffith takes to the track.
> Click here for our look ahead to 2018's most exciting cars
TVR claims the new Griffith has exceptional torsional rigidity and should tip the scales at under 1,250kg. In terms of proportions, the new TVR Griffith measures 4314mm in length, is 1850mm wide and 1239mm high, and putting that into context, Porsche's current 718 Cayman measures 4379mm, 1801mm and 1205mm respectively.
Beneath the David Seesing-designed carbon body, and hung from the iStream chassis with its 50:50 weight distribution, are double-wishbones front and rear, with adjustable coil-over dampers and concentric springs. The steering is electric power assisted, while the brakes are 370mm ventilated and floating discs with six-piston calipers at the front and 350mm two-piece discs at the rear with four-piston calipers. The 19-inch front wheels are fitted with a 235/35 Avon ZZ5 tyre, the 20-inch rears with a 275/30. 
Although the first edition of the press pack quotes no power or torque figures, TVR's official video created in conjunction with Goodwood states the engine produces 480bhp. The press literature does state that the car will have a power-weight-ratio of 400bhp/tonne, but 480bhp and a kerb weight of 1250kg results in 390bhp/tonne, short of the claimed figure. We're told the six-speed manual Tremec gearbox is rated to 700lb ft at up to 7500rpm.
Performance is something else TVR is being coy about, but it claims a 200+mph maximum and a sub four-second 0-60mph time. The car will also be offered with a variety of driving modes, too. 
If you're a fan of TVRs of old you'll be expecting an unconventional interior, and while the new Griffith isn't on a par with its ancestors for the quirkiness and plain daft design details of old, it's not an Audi inside, either. There's a TFT instrument binnacle, rotary controls for the air-conditioning and even a keyless ignition system. The floor-mounted, aluminium pedals look suitably proper, too.
A strict two-seater, TVR will produce 500 Griffith Launch Editions, with production scheduled for late 2018 and the first deliveries expected in early 2019. Offered in a range of colours, including specific LE hues, a full leather interior will also be offered and prices will start from £90,000. TVR say there are a number of allocations for these first cars still available for those who want to know why so many of us have such a soft spot for TVR today, nearly a decade after the company produced its last car in 2006. 
Les Edgar Interview
Where did TVR's rebirth all begin?
In 2013, a dozen of us – all petrolheads, all successful in business, many of us competition licence holders – were playing with the idea of starting a car company to go racing. We'd looked at various marques that we might acquire to create something between Lotus and Aston Martin, and TVR fitted the bill but was seemingly beyond our grasp. Then a contact said: 'I might be able to put you in touch.'
So I found myself talking to Nikolai Smolenski. He told me a couple of stories, one of which was that the car we wanted to make would cost £150k. He'd done a massive amount of research, but possibly not seen Gordon Murray Design and iStream. The other story was that he'd been walking through Berkeley Square in London when a small kid came running up to him, kicked him in the shins and said: 'You killed TVR!'
So the tack I took with him was to say: 'I will help you redeem yourself. Sell it to me and we'll publicly say that you helped with the repatriation of TVR.' I think it struck a chord because a couple of days later he rang me up and we bought it for a not-unreasonable sum. The deal was done very quickly, in May 2013.
What did the deal get you?
More than we thought. Initially we thought we were buying the name, the brand, all the trademarks and maybe some of the drawings. Then a large Transit van turned up and it was stuffed with paperwork and hard drives. It seemed that all the desks had been emptied. So we have surprisingly good build records, especially for the latter years. We also got the keys to a warehouse in Northants that was full of spares, so we immediately set up TVR Parts Ltd and we have re- established TVR service centres, about 30 in the UK, 12 others worldwide.
What happened next?
Getting started took about a year figuring out what to keep in terms of DNA. Getting Gordon Murray on board wasn't simple, with a lot of due diligence to be done on his side. Cosworth, too, we needed for credibility. The iStream concept came as a bonus – we weren't aware of that. We wanted the car to be an uncomplicated drivers' car, so a well-designed, well-balanced car with aero, and obviously if anyone knows about aerodynamics, it's Gordon.
How did you get Gordon Murray on board?
I said to him and his senior team: 'I don't know what you're doing for the next few years, but I'm going to Le Mans.' That kind of clinched it. Gordon has brought with him from McLaren most of the team that he had for the F1 GT racing project for Le Mans. And it is our intent; you're not a credible sports car maker unless you can prove you're up there with the best of them, and that's not F1, it's GT racing. World Endurance is where a car that has had questionable reliability in the past should be. You just have to be careful it doesn't suck away time and money from the core business.
What is iStream?
It's a concept and a process, F1 technology in a road car. If you've seen the chassis images you might unfortunately think that the new car is just like old TVRs, with a tubular steel chassis, but it's not. The skeleton it purely there to locate the heavy bits – the engine, suspension, me! – which is difficult to do with a fully carbon car. As it is, the skeleton is as torsionally stiff as the Cerbera spaceframe. But then we bond in the carbon sandwich panels and the stiffness goes up to seven times that. We think it's best in class.
What do you consider the Griffith's rivals?
There's a number of ways of looking at that. On price, we compete with the base 911 and Cayman GT4, the Aston Martin Vantage and the V8 Jaguar F-type. On performance we should be up with or above all of them. And then there's emotion. Why would you buy the Griffith rather than a 911? Because it's British, because it's not a Porsche. Because it's bespoke, hand-built, but in the right way – it will be reliable! And also because it's rare, a bit outrageous, noisy, rebellious. TVR can do things that others can't. Where they're defined, TVR can be anything.
Will it be everyday-useable, then?
It has to be. I see it as being between a Lotus and an Aston, a proper GT with a 400-mile range, full leather, air- conditioned. The sill is narrow so it's easy for a lady to get in, or a 6ft 5in man. We have looked at the geometry of the driving position and the sight lines for everyone from 5th to 95th percentile – which happens to be my wife, who is 5ft 4in, and me. I'm not sure that ever happened before at TVR.
Who styled the car?
It has to be. I see it as being between a Lotus and an Aston, a proper GT with a 400-mile range, full leather, air- conditioned. The sill is narrow so it's easy for a lady to get in, or a 6ft 5in man. We have looked at the geometry of the driving position and the sight lines for everyone from 5th to 95th percentile – which happens to be my wife, who is 5ft 4in, and me. I'm not sure that ever happened before at TVR. Some owners have said the new car isn't as outrageous as the Sagaris, but if you look at all the other cars TVR has made, they are generally quite simple and clean.
The first thing we did was get the iStream chassis structure locked down. That was within six months of signing with Gordon. He said: 'Don't touch that and you'll have a great-handling car.' Frank Coppuck [TVR technical director] spent a long time persuading him to make it 50mm wider so we could get the maximum rear wing width for racing – it's based on the width of the standard car. Then we let the designer loose on the car, and then we got the aero sorted. It has side-exit exhausts because we wanted a flat underfloor. All the holes do something, aerodynamically.
It's surprising that it has a rear spoiler, then?
Yes. It's a ground effects car but we needed the spoiler for traction – it's more about downforce, about getting weight on the back of the car. The critical factors are bhp per ton and the absolute weight of the car. A key target is 400bhp per ton. That defines the performance. The other important stat for me is how fast it gets to 100mph and back again, and a lightweight car does very well in that, as long as you've got the traction. The biggest technical issues are traction and heat management. Avon are making us a bespoke tyre.
Do you have anyone on board to do the dynamic set-up?
We do. But I can't say who it is!
What level of legislation will the car comply with?
European Small Series, which will allow us to make 1000 coupes and 1000 convertibles a year. There will be left- and right-hand-drive models from day one. The 500 launch editions are sold out. In fact we have 700 orders, and between 10 and 15 per cent of those are for left-hand drive.
How did the engine deal come about?
You can genuinely say you are a car maker when you make your own engine, but we had to get away from 'chocolate' engines. The sorted Speed Six engine was great but it took ten years to get it right. We couldn't afford to risk that again. Ford has supplied engines for 50 per cent of all TVRs and at the time [2014] was just introducing the new Mustang. It makes about three quarters of a million 'Coyote' V8s a year so it's a proven engine. They were happy to supply, we just had to make it special. Enter Cosworth, who tick all the right boxes for me. It was important that we didn't break open the engine, so we put on a lightweight flywheel, dry sump – allowing it to be 100mm lower in the car – and a new air intake, which helps enormously, and a new ECU. We've had a Mustang with the Cosworth drivetrain racking up the miles and we now have a Cerbera with it, which is outrageous. And the show car gets shaken down next week and becomes our first, fully representative prototype.
What's the next big challenge in development?
Crash testing is coming up, then ABS development, which needs hot and cold climates and takes nine months. One of the biggest unknowns is serviceability: access to service items as we productionise the car. We haven't tackled that yet, and we will have to be a bit elastic; we don't want to have to take the floor off to change the starter motor...
What about the factory in Ebbw Vale, south Wales?
We take over the shell in mid-2018. We will set up the pilot build and be delivering cars by early 2019. We have decisions to make yet: do we build the chassis in-house? Do we have our own paint shop? I think we will have the latter, and it has to be a very, very good one. I can see us encouraging suppliers to set up nearby, too. At its height, when TVR was making around 1400 to 1500 cars a year in Blackpool, they employed nearly 800 people. We will employ 180 people to make 2000 cars a year.
evo comment
Les Edgar's words should be music to the ears of those concerned about TVR's rebirth. If everything goes to plan, the new Griffith promises to exceed the best TVRs past in terms of its driving experience, while adding that much-needed reliability. We'll find out about the former in just over a year's time, and the latter in the months after that.
Welsh government invests in TVR
The Welsh Government has brought a three per cent stake in car maker TVR at a cost of £500,000 valuing the company at nearly £17 million. This follows a £2 million loan provided by the Welsh Assembly in 2016 as the revised sports car brand develops its new factory in the Ebbw Vale.
TVR's new factory is based in an area known as the Tech Valleys Project, part of a wider regeneration programme which will see around 1500 new jobs created, 100 of which will be with the sports car maker.
The new factory will be designed to incorporate Gordon Murray Design's iStream Carbon production process, which combines a tubular steel frame with honeycomb carbonfibre panels bonded to the frame to provide extra torsional stiffness. It is understood the new facility will produce both the chassis and body for the new Griffith.
A spokesman for the Welsh Government talking to Wales Online said: 'TVR are making good progress with their new car and have secured all the necessary funding to complete the pre-production design and engineering development work.
'Their move to Wales offers an exciting opportunity to create much needed well paid jobs in the Valleys.'
Construction of TVR's new home in Wales is expected to be completed before the end of 2019, with production of the new Griffith scheduled to start soon after. TVR is hopeful that deliveries of the first 500 examples of the £90,000 480bhp Griffith Launch Edition will begin in 2019.