Vauxhall GT X Experiment Concept to preview future of Vauxhall
New GT X Experiment Concept points to Vauxhall's future after a year of PSA ownership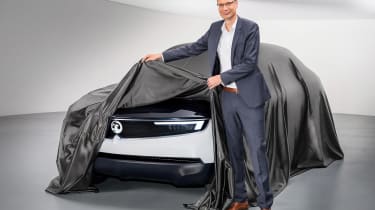 Now a full year under PSA's umbrella, Vauxhall's future beyond General Motors is being previewed with a new concept called the GT X Experiment. As well as forming the brand's upcoming aesthetic, it will also no doubt act as a philosophical break away from the marque's difficult past in the UK (and Opel Europe). Due to be unveiled in full later this year, the covered concept in this image does provide plenty of clues as to where the marque is headed in future.
In one of the biggest automotive news stories of last year, GM's troubled European arm had been haemorrhaging profits and market share for years thanks to the squeeze applied to mainstream brands between value-driven marques such as Skoda, and premium rivals such as BMW. Having nowhere other than the slow European market to support the significant costs of designing and manufacturing a whole model range, the two brands became increasingly vulnerable in a market that wasn't adequately supported by parent company GM. Outside of Europe, Opels and Vauxhalls are sold, but usually in very small numbers as outlying niche models, such as Buicks in the US and China, and Holdens in Australia.
> Click here for our review of the Peugeot 208 GTi by PS
Now, a year after the takeover by PSA, this new concept will not preview a specific model, rather it will act as a look ahead to the marque's broad aesthetic that it will apply to future models. From the limited details visible, the badge-cradle incorporated into Vauxhall's current design language has been ditched for a much stronger graphic incorporating the badge, grille opening and headlights. Also visible is a new nib just beneath the badge – a design element likely to be carried across to the production cars.
What Vauxhall's partnership with PSA might look like has already been previewed on the road, too, as models such as the Grandland X and Crossland X both share platforms and engines with the French marque thanks to an agreement between the two manufacturers before the buyout.
Will this result in a re-introduction of the VXR brand in future, too? With PSA placing a large amount of importance on performance arms of Peugeot and DS, we'd guess the same might also be applied to Vauxhall and Opel.