Vauxhall Astra VXR - Fast Fleet
The Astra VXR's had a busy year, topped off with a thirsty month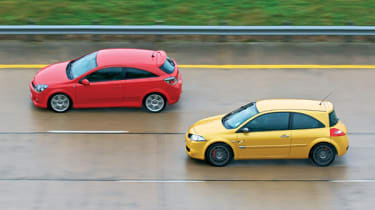 Those with a keen eye may have noticed that the Astra's mpg figure has taken a tumble from its 30-something norm this month. There are two reasons for this. Firstly, having recently moved house I've now got a new route in to Evo Towers that involves spending less time on dual carriageways and more on back-roads. Back-roads with very little traffic on them. Such a commute, it has to be said, is no great hardship in the VXR.
Secondly, as the registration-number anoraks amongst you will have spotted, it was KE55 OFA that represented the Astra VXR in last month's Civic Type-R group test. And lapping Millbrook's high-speed bowl at 144mph and Bedford Autodrome's West Circuit in 1:38.25 does little good for a car's fuel economy.
If you've also picked up on the fact that our Astra has broken through the 30,000-mile barrier this month then you can award yourself full points in the observation round. In fact, having covered just over 31,000 miles in the 12 months (to the day, as I write) that it has been with us, it's one of the busiest cars to have ever graced our fleet.
As those miles have included trackdays, group tests, performance testing and being borrowed on more than one occasion by Kenny P, you could be forgiven for thinking that our Vauxhall might be a little worse for wear. But you'd be wrong. There are no squeaks, no rattles, and nothing has fallen off. Well, apart from the natty VXR badge on the driver's floor mat, but I think I can overlook that.
Furthermore, KE55 still feels fresh to drive. Fresh enough, in fact, to finish last month's group test ahead of the new kid on the block, the Civic Type-R, while also earning an extra half-star for the Astra VXR's evo rating. Well deserved, if you ask me.
Running Costs
| | |
| --- | --- |
| Date acquired | February 2006 |
| Total mileage | 31,377 |
| Costs this month | £0 |
| Mileage this month | 1,933 |
| MPG this month | 26.5mpg |