Vauxhall Astra VXR - Fast Fleet
Ian Eveleigh is gutted that the Vauxhall Astra VXR's going back soon, just when the weather's starting to turn...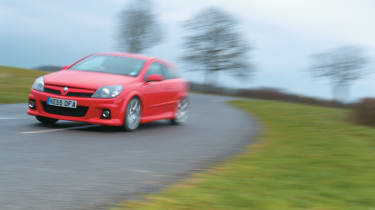 Ah, spring… Sunshine, a touch of warmth in the air – and drier roads. Just what the Astra needed. Although it's by no means slow in the wet, the VXR's inability to convey clearly through its steering exactly how well the front tyres are biting meant much of the winter was spent tip-toeing around corners.
It's a different story in the dry, though, and with the more friendly near-the-limit behaviour from the Michelin Pilot Exalto tyres that we fitted a few months back (evo 101) I've been enjoying digging into the VXR's talents more than ever.
Shame, then, that KE55's days with us are numbered. Best I use the lighter evenings to make the most of it while it's still here.
Running Costs
| | |
| --- | --- |
| Date acquired | February 2006 |
| Total mileage | 34,951 |
| Costs this month | £0 |
| Mileage this month | 1,971 |
| MPG this month | 28.8mpg |