Vauxhall Monaro VXR 6.0
I've really clicked with the Monaro now, two months in. Sustained exclusive use and a trip to Donington Park for the first evoactive trackday of the season have cemented my appreciation of the VXR. It has taken time to get used to the hefty gearshift, the oddly raised driving position and the somewhat choppy low-speed ride. Those characteristics are still there but they've faded into the background as the Monaro's strengths have come to the fore, principally its long-distance comfort, that fabulous, gutsy a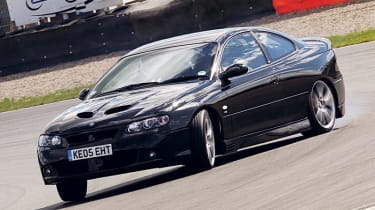 I've really clicked with the Monaro now, two months in. Sustained exclusive use and a trip to Donington Park for the first evoactive trackday of the season have cemented my appreciation of the VXR. It has taken time to get used to the hefty gearshift, the oddly raised driving position and the somewhat choppy low-speed ride. Those characteristics are still there but they've faded into the background as the Monaro's strengths have come to the fore, principally its long-distance comfort, that fabulous, gutsy and potent 6-litre V8, and the surprisingly agile and friendly handling.
Early in the month a mystery about the Monaro was partially solved, by mistake. Since delivery, radio reception has been poor and I had resigned myself to using the CD player until the first service. One chilly morning I pressed the heated rear window button to demist the rear screen and it didn't work, which was annoying, but I realised that radio reception had suddenly become perfect. Like many modern cars, the heating elements double up as the aerial and there's clearly a wiring problem somewhere in the system.
I love Donington; I suspected the Monaro would too, and so it proved. Rev it out and the full 400bhp is most definitely present and correct. The brakes faded quickly - I'd expected that, as they hadn't yet been worked hard - but allowed to cool they bedded in nicely and then provided adequate performance. Drive the VXR smoothly and the front tyres scrub gently through the turns, the balance safe and predictable, but I hate understeer. A quick waggle of the wheel gets the tail swinging on turn-in and you can then pick up the throttle and powerslide through the corners. The VXR is wonderfully balanced, even big slides easily caught and held, the chassis settled and poised. For me, it's a badge of honour to come back with the rear tyres rather than the fronts looking a bit worn but 20-odd laps haven't taken much out of the rears. Roll on the next trackday.
Running Costs
| | |
| --- | --- |
| Date acquired | April 2005 |
| Total mileage | 3212 |
| Costs this month | £0 |
| Mileage this month | 1562 |
| MPG this month | 20.2mpg |