We spoke to Roger Keys from Monkfish Performance, a Monaro specialist near Milton Keynes. According to Roger, the car is generally pretty solid but there are several points to look out for.     Engine
Essentially, the 5.7 (LS1) and 6.0 (LS2) engines are the same and any problems are likely to be common. 'Both engines can be a little noisy on start-up,' says Roger, 'but this should disappear as soon as they warm up. The noise could be hydraulic tappets building oil pressure or a little piston slap, which is acceptable as long as it clears when warm. Oil seepage around the bell housing is also fairly common and tends not to indicate any major issues. However, a heavy oil leak will need looking into.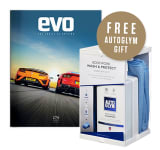 Subscribe to evo magazine
Subscribe today to our exclusive new offer and SAVE 39% on the shop price, get evo for its original cover price of £3.00 an issue, plus get a FREE gift worth £20!
'The tensioners for the ancillary belt can be a little squeaky, which is annoying rather than dangerous, and buyers should check the coolant hoses, as these can leak where they rub on the cylinder heads. Also, the throttle bodies can cause problems on the 6-litre engines, meaning an expensive repair, so check that the throttle responds properly.'Transmission
The Monaro's transmission is pretty crude but should last well. However, Roger recommends checking gear selection: 'The selector forks on fifth and sixth gear can wear or fail, making it impossible to select these gears. Unfortunately, the only solution is a rebuild. Buyers should also make sure that there is no vibration from the drivetrain, which could indicate broken propshaft joints.
'The limited-slip differential is usually pretty reliable but they do frequently "clonk". An oil change to a decent quality oil will rectify this, but if it's noisy when it's cold then it is probably on its way out.'
Suspension, wheels and brakes
The Monaro's suspension has always been a bit of an Achilles heel. Early cars were very soggy and VXRs tend to eat dampers. 'Monaros can go through dampers in as little as 10,000 miles,' says Roger. 'The front strut top mounts can get noisy, meaning replacement bearings are needed, and the front suspension also tends to go out of alignment, scrubbing the insides of the front tyres.
'The steering rack gaiters on 2004 VXRs can also perish and get burned, as they are very close to the exhaust system – we can fit heat guards to prevent this.'
Chassis, body
Coming from Australia, Monaros weren't undersealed from new, so a decent rustproofing treatment is good for peace of mind. Regardless, it's worth having a look around for signs of tin-worm. 'The front chassis rails can fill with water and while they are designed to drain, the hole usually gets blocked,' warns Roger. He also recommends a good check of the bodywork generally, as many Monaros have found their way to the bodyshop after an off. Interior
Like the rest of the Monaro, the interior is generally strong, albeit rather dated. Check that all the electrics work and make sure that the carpets are dry: 'Water can find its way in past the door seals,' says Roger. The seat runners on high-mileage cars can also wear, allowing the chair to move back and forth under acceleration and braking.
Specification - 2004 Vauxhall Monaro CV8
Engine V8, 5667ccMax Power 329bhp @ 5600rpmMax Torque 343lb ft @ 4000rpmTransmission Rear-wheel drive, six-speed manual, limited-slip differentialTyres 235/40 R18Weight (kerb) 1658kgPower-to-weight 202bhp/ton0-60mph 5.3sec (claimed)Top speed 160mph+ (claimed)Price when new £28,500 (2004)
Parts Prices - Supplied by Monkfish Performance, Bucks. Prices include VAT at 17.5% but not fitting
Tyres £162.47 each (Bridgestone Potenza)Brake Pads (front set) £109.95 (Performance Friction)Brake discs (front set) £79Clutch, complete £643 inc. flywheelOil filter £6.34Air filter £15.19Spark plugs (set of eight) £70.32Exhaust system £826.08 (Wortec cat-back)
Servicing - Prices supplied by Monkfish Performance
Minor service £148.15 (10,000 miles)Major service £301.41 (50,000 miles)Cambelt change £n/a (pushrod engine)
What to pay
Early CV8 models with high miles can be had for as little as £8000-9000. However, with this sort of mileage you'll be looking at paintwork that's seen better days at the very least. A later car, say a VXR from 2005, will be in the region of £12,000-13000, while even later cars, such as a 2007 VXR with low miles, will be closer to the £18,000 mark. If it's one of the rare supercharged VXR500 models you're after then you'll be in for a long search and will need to spend around £18,000 for the privilege.
* All prices correct as of June 2010