Autofarm is a company based in Oxfordshire and they have been fettling 911s for almost as long as Porsche has been building them. This car might look like a 1970s 911 S and the badge on the engine might even say 2.4, but underneath are the chassis of a 3.2 and the engine from a 964.
It costs about the same as a new Carrera but each car is a bespoke build and well worth it. Read more in issue 156 of evo.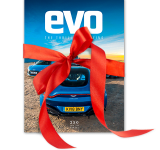 Subscribe to evo magazine
If you're passionate about the world's greatest performance cars, experience the thrill of driving with evo magazine. Try your first 5 issues for £5.