evo Diaries: Henry goes rallying in his Mk2 Escort
Henry Catchpole takes us behind the scenes as he takes his Mk2 Escort onto the muddy stuff at the Woodpecker Rally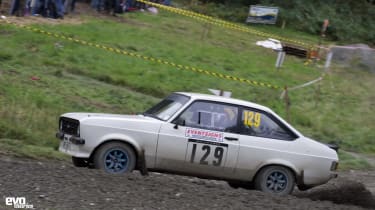 Three years into ownership, Henry finally gets the chance to get his Mk2 Escort muddy at the Woodpecker Rally. Making its competitive debut in the forests that encircle Ludlow, Henry and his Escort share the gravel with a vast range of rally cars ranging from a Triumph TRZ, a Group B Metro 6R4 and WRC Ford Focus.
Though he has thousands upon thousands of miles of high performance motoring under his belt, as Henry rolls up to the start-line of Stage 1, he faces his first gravel rally stage for over five years. Topping this is the fact that he hasn't turned the Escort's wheel in anger, ever. It's safe to say excitement is matched by nerves at this point… 
The car, a 1979 Mk2 Escort RS, produces around 150bhp from its 2-litre Pinto four-pot in current spec. Whilst the numbers might appear to be somewhat lukewarm, when they're attached to a stripped out rear-wheel drive rally car, they're more than enough to send the classic Ford squabbling for grip through the forest.
With co-driver Gyln Thomas shouting the commands and Henry learning both the Escort and gravel with every turn, Henry's progress through the weekend is illustrated first hand in his video diary above.
Whilst he spends much of the rally with a massive grin on his face, the weekend isn't without its problems…