For three days from the 11 September Goodwood Circuit will be thrust back into yesteryear as the Goodwood Revival returns for the 18th consecutive year. 14 different race classes containing cars ranging from F1 single-seaters to classic Minis, all from motorsport's 'Golden Era', will take to the historic circuit to race wheel-to-wheel, driven by a while host of legends and celebrities. The racing will be fast paced and frantic - it always is – and you can catch it all live here.
You can watch the live stream above, and read on to see the weekend's full race schedule.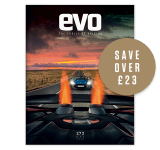 Subscribe to evo magazine
Subscribe today to have every issue of evo delivered straight to you. You'll SAVE 39% on the shop price, and get evo for its original cover price for a whole year!
FRIDAY 11 SEPTEMBER
09:45 Official Timed Practice: Freddie March Memorial Trophy (30 mins, two-driver) 10:30 Official Timed Practice: Goodwood Trophy (15 mins)
11:00 Official Timed Practice: Fordwater Trophy (15 mins)
11:25 High Speed Demonstration: Shelby Daytona Coupe (15 mins)
11:50 Official Timed Practice: Barry Sheene Memorial Trophy (30 mins, two-rider) 12:35 Official Timed Practice: St Mary's Trophy - Part 1 (15 mins)
13:05 Official Timed Practice: Lavant Cup (15 mins)
13:35 Official Timed Practice: Brooklands Trophy (15 mins)
14:05 OfficialTimed Practice:WhitsunTrophy (15 mins)
14:35 Official Timed Practice: Earl of March Trophy (15 mins)
15:05 Official Timed Practice: Richmond and Gordon Trophies (15 mins)
15:35 Track Moment:Tribute to Bruce McLaren (2 laps + in-lap)
15:55 Official Timed Practice: St Mary's Trophy - Part 2 (15 mins)
16:25 Free Practice: RAC TT Celebration (25 mins, two-driver session)
17:05 Official Timed Practice: Glover Trophy (15 mins)
17:35 Official Timed Practice: Sussex Trophy (15 mins)
18:10 Race1: Freddie March Memorial Trophy (90 mins, two-driver) 
SATURDAY 12 SEPTEMBER
10:00 Race 2: Goodwood Trophy (20 mins)
10:45 Race 3: Fordwater Trophy (20 mins)
11:20 Track Parade: Land Rover Celebration (1 lap and off at Lavant Straight) 11:40 Settrington Cup – Part 1
12:00 Official Timed Practice: RAC TT Celebration (25 mins, two-driver) 12:50 Race 4: Barry Sheene Memorial Trophy – Part I (25 mins, two-rider) 13:30 Track Moment:Tribute to Bruce McLaren (1 lap + in-lap)
14:25 Race 5: St Mary's Trophy – Part 1 (25 mins)
15:15 Race 6: Lavant Cup (20 mins)
16:00 High Speed Demonstration: Shelby Daytona Coupe (15 mins)
16:35 Race 7: Brooklands Trophy (20 mins)
17:20 Race 8: Whitsun Trophy (25 mins)
18:00 Racing ends
SUNDAY 13 SEPTEMBER
10:00 Race 9: Earl of March Trophy (20 mins)
10:45 Race 10: Richmond and Gordon Trophies (20 mins)
11:30 Settrington Cup – Part 2
11:50 Race 11: Barry Sheene Memorial Trophy – Part 2 (25 mins, two-rider) 12:40 Race 12: St Marys Trophy – Part 2 (25 mins)
13:20 Track Moment:Tribute to Bruce McLaren (2 laps + in-lap)
13:40 Goodwood Lap Record Demo (2 laps + in-lap)
14:15 Track Moment: 75 Years since the Battle of Britain
15:00 Race 14: Royal Automobile Club TT Celebration (60 mins, two-driver) 16:25 Race 15: Glover Trophy (25 mins)
17:00 High Speed Demonstration: Shelby Daytona Coupe (15 mins)
17:35 Race 16: Sussex Trophy (25 mins)
18:45 Prize Giving