Radical SR8 smashes Nürburgring lap record
Shortly after Jethro Bovingdon's trip to the Nürburgring, Radical sent its race team to the Eiffel mountains to retake the outright 'production car' lap record with test driver Michael Vergers piloting an SR8. The Radical obliterated the record; in road-legal trim and riding on Dunlop Direza trackday tyres, it lapped the 13 miles in just 6:55 (timed independently by the German magazine Sport Auto), knocking more than 20sec off the previous record held by Donkervoort (evo 082).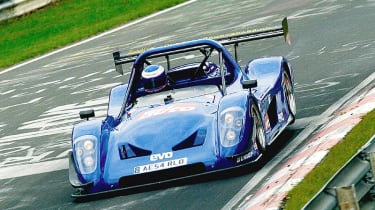 Radical has held the record before, when Phil Bennett scorched around the loop in an SR3 Turbo back in 2003, but such is the importance of the record it was soon under attack from Europe's top engine tuners and specialists.
The £60,000 Radical SR8 is in reality a road-legal race-car powered by a high-revving 2.6-litre V8 engine, built in-house by Powertec, developing 360bhp at 10,500rpm. During the run it reached a peak speed of 161mph, while the aerodynamics generate two and a half times the downforce of the SR3; combined with some very trick dampers, this set-up enabled the extraordinary cornering speeds required for a sub-seven minute lap.