We celebrate the cult of the road racer by gathering together the very best of the breed. R26.R, Scuderia, GT3 RS, Exige Cup 260 and more battle it out against a motorsport hero.
Click here to see part one of the video...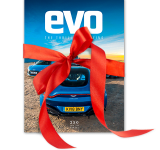 Subscribe to evo magazine
If you're passionate about the world's greatest performance cars, experience the thrill of driving with evo magazine. Try your first 5 issues for £5.