The amphibious Scamander was former TVR boss Peter Wheeler's final project, and now it's been completed. In an evo exclusive, we try it on and off road, and in the place the Scamander really intrigues - on the water of Lake Ullswater.
Despite its off-road credentials, the Scamander is rear-wheel drive, its back axle powered by a 3-litre Ford Duratec V6 engine via a four-speed automatic gearbox. It's enough to hustle the 1.6-ton behemoth to 60mph in around 8 seconds, and onto an estimated 120mph top speed - or 6 knots on water.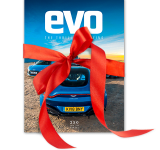 Subscribe to evo magazine
If you're passionate about the world's greatest performance cars, experience the thrill of driving with evo magazine. Try your first 5 issues for £5.
Harry Metcalfe tries out the Scamander in the video below. Prepare to want one...