Volkswagen Beach Buggy concept revealed at Geneva
Lithium-ion batteries, electric motors and salt water. What could possibly go wrong?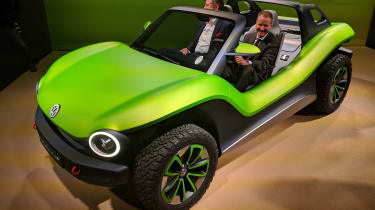 Instagram-addicted, vegan millennials rejoice, because Volkswagen has revealed a contemporary take on the original beach-bum VW Beach Buggy, finally a new cult hero for a generation of people who don't remember a time before broadband internet. Although we're not sure how they'll feel about this VW tearing up fragile seaside ecosystems, albeit silently and with zero exhaust emissions.
This is, of course, deadly serious for Volkswagen – if nothing else an explicit display of the variety of applications its new all-electric MEB platform might go on to underpin. But till the higher-volume I.D models begin to roll out later this year, VW's intention is to keep the 'Buzz' surrounding its ambitious electrification plans.
> Click here for more on the upcoming Volkswagen I.D range
What else is visible, despite the dark computerised images, is the new Buggy's clear link to its fibreglass forebear – although strictly speaking, VW never produced its own version, the original being a designed and built by Californian Bruce Meyers from 1964. There are no doors, side windows or roof, while the near-open wheels sit well clear of the 'floating' bodywork. Round headlights and the large contrasting roll-hoop complete the picture, but we'd be confident in saying it won't have an air-cooled flat-four hanging off the end of the chassis.
VW has a habit of drawing on its past for concept cars, this following the I.D Buzz Concept – the latest rehash of a Volkswagen camper van – not to mention the never-ending saga of the Beetle, but as an exercise in connecting to its past the Beach Buggy concept seems a fun way of displaying its very serious new drivetrain technology.
To be revealed at this year's Geneva motor show in March, as our march towards the affordable mass-market electric car continues it remains to be seen whether a new-age electric beach buggy will be part of the plan.