New high performance Volkswagen Golf teased
After a less than brilliant introduction to Golf's performance range, will this be the Mk8's redemption?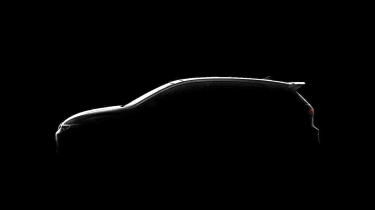 Volkswagen has previewed a further high performance Golf variant that will debut in the next few weeks, joining the GTI, Clubsport and R in the Mk8 range. Very few specifics have been detailed as yet, but VW is hoping this new model will address some of the criticism that both the GTI and R models have received since their debuts through both hardware and software changes. 
The teaser image provided reveals very little about the new model, aside from the Golf 8's familiar silhouette which includes the same extended rear wing as found on the GTI Clubsport and R when fitted with the Performance Pack. 
> Click here for our in-depth review of the Mk8 Golf R
The current Golf's packaging suggests that this new model will most likely utilise a further variation of the EA888 turbocharged 2-litre four-cylinder petrol engine, and could find its basis in either the GTI or R, the differentiator being its use of two- or four-wheel drive.
One element that would give this new model instant distinction from the current range is its transmission, as all high performance Golfs, except the base-level GTI, are fitted exclusively with a DSG, leaving scope for the utilisation of its six-speed manual in a more focused application.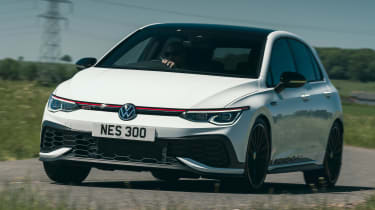 Beyond this, hardware changes could be utilised in the specific suspension geometry, and depending on the amount of driven wheels either the limited slip-differential on the front axle or torque-vectoring rear differential could be the focus of VW's engineers.
Yet it's on the software side that we know VW is also working on, with constant refinements to the Golf's vehicle dynamics manager (or VDM) which essentially knits all of the hardware and software systems together. This centralised brain, as you might call it, effectively syncs all of the car's digitally-controlled elements together, something especially important when the steering, dampers, differential, engine mapping, transmission and traction control systems all have variable setups. 
Rather than leaving the synchronicity of these elements to chance, each feeds data into this centralised control system which then adjusts the subsystems to suit your driving style and/or chosen mode. 
Yet software always comes second to feel in our book, and this is something we hope this new high performance Golf finally delivers in this eighth generation. And going back to what this new high performance model could be based on, we know VW has a habit of celebrating anniversaries with exciting special editions. So while the GTI isn't on a big birthday year, 2022 does mark 20 years since the debut of the original Mk4 R32…