VW Golf GTI
Henry Catchpole contemplates the colour choice on his Golf GTI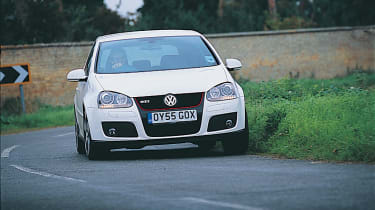 White. Some things can get away with it. Swans, for example – they've been getting away with it for years.
The jury is still in deep discussion over the GTI, however, and it seems to be split; chaps saying aye and the gals crying nay. Perhaps this explains why I've seen only two other Candy White GTIs on the road – chap manages to swing a GTI past his darling little puff adder, but she dictates the hue.
Most seem to be in Diamond Black (black being another colour which, as Cook discovered, swans have been getting away with for years) or Tornado Red (seemingly not so popular with swans), with the occasional one in Shadow, Ink or Graphite (all blues). I can see that it's a bit of a gamble when you're looking at showroom swatches resembling pieces of van but, like The Beatles' double album, I still reckon white is best.
Running Costs
| | |
| --- | --- |
| Date acquired | September 2005 |
| Total mileage | 20,767 |
| Costs this month | £468 (windscreen) |
| Mileage this month | 1862 |
| MPG this month | 30.8mpg |