Volkswagen Golf R32
Jethro takes a turn in the R32 and finds new reasons to hate the DSG gearbox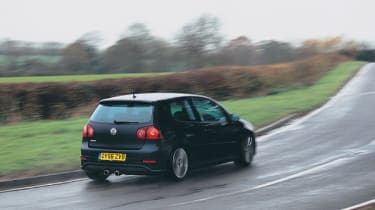 Neil Carey, evo's designer and the R32's regular keeper, never really wanted the DSG 'box, but it was decided that we should live with one for a while, just to see if it really does deliver the best of both worlds. I've always considered DSG to be a bit dull; great as an auto, but pretty hopeless when you want to feel involved. It's a view that most of us around here share, although we're clearly in the minority – most magazines love the DSG's seamless shifting. With a bit more exposure, we thought, maybe it could win us over.
It hasn't. And not for the reason I thought. I quite enjoy the paddle change now (although I still think the slick manual is more fun), but the auto mode, at least around town, is incredibly irritating. Pull up to a junction at a crawl with the R32 in second gear, spot a gap in the traffic and gently squeeze the throttle. In the manual you'd just leave it in second and smoothly waft away on the torque, but the DSG selects first with a thunk (you're already accelerating so it's like a severe kickdown in an automatic) and sends you scurrying up the road like you've just dropped the clutch.
Ambling through town in slow-moving traffic can be equally jerky, the DSG juggling gears too often, the clutch slipping with a flare of revs when you'd expect effortless progress. Very odd. This is where the DSG should really prove itself and where traditional, Ferrari-style paddle-shifters often feel horribly clumsy. But the truth is you'd be much better off in a real auto, or controlling things yourself with three pedals and a manual gearbox.
Away from urban constraints it's much more positive, every upshift perfectly, imperceptibly nailed and the digitally programmed downshift- blip faultless. And the R32 is very, very quick across the ground when you're freed-up to time every gearchange to perfection. The chassis feels pretty sweet, too: GTI beefed-up a bit, ride a bit harder, a smidge of agility lost but with gains in grip and traction. No wonder there are so many around – it's a really good car. But if you fancy an R32, stick to the manual. Sorry, Neil.
Running Costs
| | |
| --- | --- |
| Date acquired | November 2006 |
| Total mileage | 4,297 |
| Costs this month | £0 |
| Mileage this month | 1,375 |
| MPG this month | 24.0mpg |